News

3rd Berserk Film Listed as R15+ Instead of R18+

posted on by Sarah Nelkin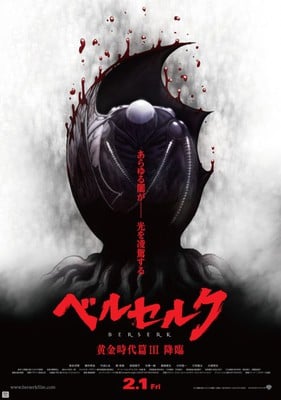 The new movie poster and trailer for the third Berserk feature film, Berserk Golden Age Arc III: Descent (Berserk Ōgon Jidai-Hen III: Kōrin), lists a R15+ rating. Japan's Film Classification and Rating Committee (Eirin) had previously listed a rating of R18+ for "extremely provocative sexual content" on October 16. If the movie stays designated as R18+, theaters will be required to restrict the film to viewers 18 years old or older.
The Gigazine website reports there are now plans to resubmit the film to Eirin for the R15+ rating.
The last major anime film with an R18+ rating was 2011's complete edition of Mardock Scramble: The First Compression. The film had opened one year earlier without some scenes and with a PG12 rating.
---
RightStuf - Anime, Manga and More