News

5th Yamato 2199 Film, TV Premiere Slated for April

posted on

2013-01-10

23:36 EST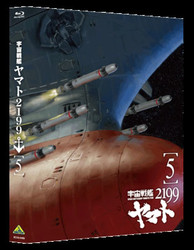 Space Battleship Yamato 2199, the updated remake of the original Space Battleship Yamato anime, will begin airing in Japan in April. It will be the first new Yamato television anime series in 33 years. The anime will run in the same 5:00 p.m. timeslot on Sundays on the TBS network currently held by Magi.
The first episodes of the anime already ran in theaters beginning last year. The fifth theatrical installment with episodes 15-18 will play in 12 theaters on April 13, before going on sale on Blu-ray and DVD on May 28.
Source: Sports Nippon, AV Watch
---
Kiznaiver leaps up the charts while Assassination Classroom drops like a rock - what other chaos awaits your favorite shows in our weekly user rankings?
― Our team of reviewers are following 25 anime series of the Spring 2016 season and readers are rating each episode as the reviews go up. So let's have a look at what ANN readers consider the best (and worst) of the season. Keep in mind that these r...
One of the most critically acclaimed videogame adaptations ever, Rage of Bahamut: Genesis is out on bluray now. Theron Martin swashbuckles his way through the set.
― Now this is how you make a game adaptation! Specifically, Genesis is a companion piece to the app-based card battle game Rage of Bahamut, which at the height of its popularity had a worldwide English language user base in excess of three...
"Oh, you also use computers?" is a common phrase you might hear in anime; why is "using a computer" is still sometimes treated as a hobby in anime?
― Shomik asks: When I was watching Tanaka-kun is Always Listless, which takes place in the present day, as well as playing the visual novel Root Double, which takes place in 2030 (and written a year or two ago), I come across lines like "Oh, you can use ...
Everyone's favorite short-skirted space bucaneers are back with a feature-length film bursting with positive energy and some decent animation - Paul takes a look. PLUS: this week's new releases!
― Memorial Day weekend carries a little extra significance for strange folks like me who follow motor racing. The Indianapolis 500 and the Monaco Grand Prix are both held on Sunday, which means I can watch t...
Akame ga Kill's second half winds up being kind of a letdown thanks to some mishandled story elements and a misbegotten romance - Rebecca Silverman takes a look.
― Akame ga Kill may have a bit too high an opinion of its ability to be symbolic. While it is true that the first half managed to slip in some philosophy about killing being bad no matter what its purpose and to juxtapose the happy family li...
Liones may be saved, but things are far from over as life starts to take a much darker turn for Meliodas and his merry band. If the Seven Deadly Sins are good guys, then what are the Ten Commandments likely to be...?
― Technically speaking, this volume of Nakaba Suzuki's semi-concealed Arthurian fantasy picks up where the first season of the anime ends – Hendrikson is defeated and life is starting to...
Dating sim games have become increasingly awesome over the years, allowing you to date dinosaurs, bug men, alpacas, and all sorts of strange stuff. Here are seven of the weirdest!
― Romance simulators, and more recently romance training game hybrids, are always looking for a new way to spin the "one protagonist, many love interests" set-up. A company can only push so many run-of-the-mill high school...
The fantasy novel series' first story arc comes to an end in the best-edited volume of the series yet. It answers a lot of questions while setting the story up for an interesting continuation.
― This volume essentially brings part one of The Rising of the Shield Hero novel series to a close, wrapping up the problems that have been plaguing Naofumi, the eponymous Shield Hero, since he was first summon...