News

Anohana Film's August 31 Date, 2nd Key Visual Revealed

posted on

2013-03-25

10:55 EDT by Egan Loo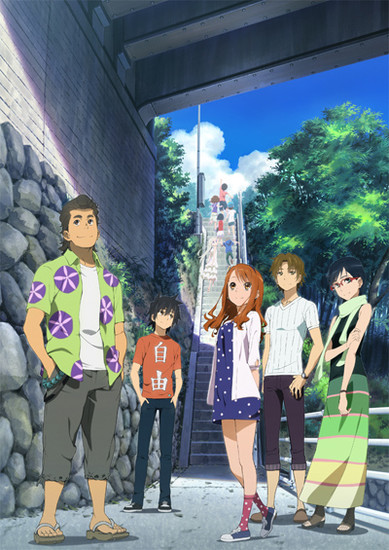 The official website for the anohana: The Flower We Saw That Day anime announced that the upcoming film will open on August 31. The list of theaters will be provided later. The website also posted the second piece of key visual art (pictured above).
The original Spring 2011 television anime followed several childhood friends who try to reconnect in high school after drifting apart due to tragedy. The film will retell the anohana story from the character Menma's point of view. Tatsuyuki Nagai is returning to direct the film at A-1 Pictures.
[Via Hachima Kikō]
Image © Anohana Project
---
discuss this in the forum (18 posts)
|
bookmark/share with:
RightStuf - Anime, Manga and More
DanMachi returns to telling smaller self-contained stories as Bell reaches Level 4 in his training. Theron Martin has the details.
― With the three-volume arc involving the Xenos now complete, writer Fujino Omori returns both to carrying out a pure dungeon crawl and to telling an entirely self-contained story. That's not to say at all that this is an isolated story; some elements and consequences of ...
All the biggest announcements straight from the Javits Convention Center in New York City. Keep checking back as we update all weekend!
― November 16-18, 2018 New York City Cosplay Galleries Cosplay Gallery I Day One Headlines Aniplex USA to Release Black Butler Season 1 on Blu-ray in January Aniplex USA Announces Sword Art Online Alternative: Gun Gale Online English Dub Cast (Update) I Want to Eat ...
While voice actors and anime production staff are common guests for overseas conventions, why is it so much less common for manga artists to make the journey? Deb Aoki has the answers.
― Why don't more Japanese manga artists come to N. American comic / anime conventions? It's largely a matter of time, availability and money. Most manga artists, especially those who have series that are published on ...
Ryo Mizuno, creator of wars both Lodoss and Grancrest, talks up his long and storied career in novels and RPGs alongside the producer of the new Grancrest War mobile game from Bandai Namco.
― Ryo Mizuno's career has been pretty spectacular – both a novelist and a game designer, Mizuno made his mark after creating a legend with the blockbuster fantasy novel series Record of Lodoss War back in 1988 (wh...
This slice-of-life drama where rich kids must grapple with a meritocratic system has some fascinating ideas, but ultimately can't come together into a greater whole. Nick Creamer has the details.
― There's a certain subgroup of anime high school dramas that I've come to essentially see as "Catcher in the Rye shows." Echoing the defiantly cynical yet extremely naive perspective of Catcher's Holden Cau...
This imaginative reboot has a strong story and a confident style, but do its safer and more marketable anime hallmarks dampen the show's potent edge? Micchy and Andy hash out the show's highs and lows.
― SSSS.Gridman has a strong story and a confident style, but do its safer and more marketable anime hallmarks dampen the show's potent edge? This week, Micchy and Andy hash out the show's highs and lo...
It's a big week for everyone's favorite pocket monsters as both Pokemon: Let's Go, Pikachu! and Let's Go, Eevee! hit shelves and the trailer for Detective Pikachu lit the internet aflame. PLUS: this week's new releases and more!
― Hi again, everyone! I'm back at home and comfortably setting back into my normal routine. I also played through Deltarune part 1 last night. That game was very, very fun an...
SNK delivers a history lesson with an anthology of early arcade and NES titles. Todd finds out how well these games have held up in this new game for the Switch.
― What made SNK a cult favorite game company? Was it the Neo Geo, which delivered arcade-perfect games at home for just two hundred dollars per cartridge? Was it the Neo Geo Pocket Color, a well-made and vastly underappreciated handheld syst...
To celebrate the upcoming special theatrical event of MIRAI on November 29, December 5 & 8, GKIDS is giving away awesome stuff to ONE lucky winner!
― From acclaimed director Mamoru Hosoda (Summer Wars, Wolf Children) and Japan's Studio Chizu comes MIRAI, a daringly original story of love passed down through generations. To celebrate its upcoming special theatrical event on November 29, December 5 & ...