News

One Piece Film Z Box Office Totals 6.8 Billion Yen

posted on

2013-05-26

20:23 EDT by Lynzee Loveridge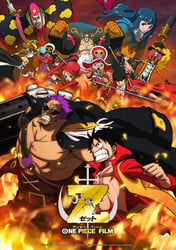 One Piece Film Z has earned at least 6,850,000,000 yen (about US$67,000,000) since it opened on December 15 until this past week. The film is distributor Toei's highest-grossing film since 2000. It broke the record set by Jun'ya Sato's live-action film Otoko-tachi no Yamato, which earned 5.11 billion yen (US$59 million) in 2005.
One Piece Film Z was also the fastest domestic film to sell 1 million tickets in 2012. It sold 600,000 tickets for 750 million yen (US$9 million at the time) on its first day, and 1.14 million tickets for 1,372,050,000 yen (about US$16,339,700) its opening weekend — the highest of any film in 2012.
Doraemon: Nobita no Himitsu Dōgu Museum surpassed franchise records by earning 4 billion yen (US$39 million) at the box office since opening last month.
Detective Conan: Private Eye in the Distant Sea has estimated box office earnings of 3.3-3.5 billion yen (US$32-34 million) since it opened last month, effectively surpassing last year's Detective Conan: The Eleventh Striker's total of 3.29 billion yen for the franchise record.
Source: Oricon
---