News

One Piece's Chopper Joins Monster Hunter 4 3DS Game

posted on by Sarah Nelkin
Member of Straw Hats added in celebration of
One Piece manga
's publishing of 300 million copies
---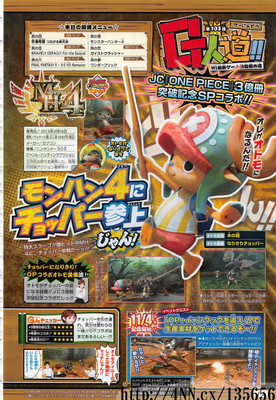 This year's 49th issue of Shueisha's Weekly Shonen Jump magazine is announcing on Saturday that Chopper from Eiichiro Oda's One Piece manga and anime adaptation will make an appearance in CAPCOM's Monster Hunter video game for the Nintendo 3DS. The collaboration celebrates One Piece having more than 300 million copies in print.
Chopper will serve as an assistant fighter to the player. He will come equipped with a wooden branch as a weapon, and an "Excited Chopper" armor. Chopper will cheer on players during their hunts.
Monster Hunter 4 was directed by Kaname Fujioka and produced by Ryozo Tsujimoto of the previous Monster Hunter games. Gameplay will support up to four players. Manga creator Hiro Mashima (Fairy Tail) designed original full-body outfits as well as a weapon for the game. Nintendo had initially announced that the game would be released in March, but it had been delayed until its September release date.
---