News

Gokusen's Yukie Nakama Stars in I.G.'s Giovanni's Island Film

posted on by Lynzee Loveridge
---

The cast for Production I.G's hand-drawn Giovanni no Shima (Giovanni's Island) animated feature film was revealed on Tuesday. The film stars (from top left to bottom right in photo) Masachika Ichimura (live-action Thermae Romae's Hadrian), Yukie Nakama (live-action Gokusen's Kumiko "Yankumi" Yamaguchi), comedian Kanako Yanagihara (live-action Otomen), Yusuke Santamaria (live-action 20th Century Boys), Hiroshi Inuzuka (Kamen Rider ZO), Kaoru Yachigusa, Tatsuya Nakadai (Yojimbo, Seppuku, Kwaidan, Ran, Kagemusha, Final Yamato), and Saburo Kitajima (Prince Mackaroo theme song performance).
This will be Nakama's first voice-acting role in an anime film in 16 years; she played Lapis Lazuli in Martian Successor Nadesico: The Motion Picture - Prince of Darkness.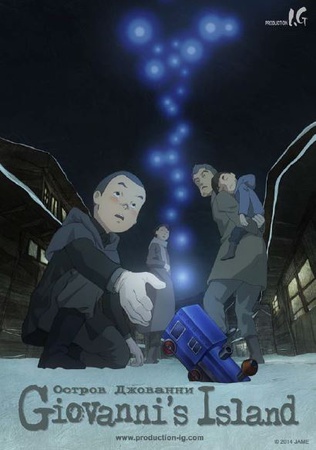 Production I.G describes the story:
In the aftermath of the most devastating conflict mankind had ever experienced, the tiny island of Shikotan became part of the Sakhalin Oblast... and on the unhealed border of this remote corner of the world, friendship among children from two different countries timidly blossomed, striving to overcome language barriers and the waves of history. Inspired by true events.

On August 15th, they told us we had lost the war.

At that time, we did not really understand.

Then one day, everything changed.

Many soldiers, wearing uniforms we had never seen before, arrived on the island.

That was the day I met Tanya.
Mizuho Nishikubo (Musashi: The Dream of the Last Samurai, Video Girl Ai) is directing the film from a screenplay by Shigemichi Sugita (From the Northern Lands) and Yoshiki Sakurai (Ghost in the Shell: Stand Alone Complex, Blood+). The film is being presented by the Japan Association of Music Enterprises (JAME) in order to celebrate the organization's 50th anniversary. Warner Entertainment Japan will open the movie in Japanese theaters in early spring 2014, while Production I.G will be handling international release of the film worldwide.
The film will open in Japan on February 22.
Source: Mainichi Shimbun's Mantan Web
---