News

Madman's "12 Announcements of Christmas" Day Seven - Silver Spoon

posted on by Jon Hayward
Madman has announced
Silver Spoon
as the seventh title before Christmas;
---
The announcement was made on Madman's facebook page and will be released on DVD in late 2014;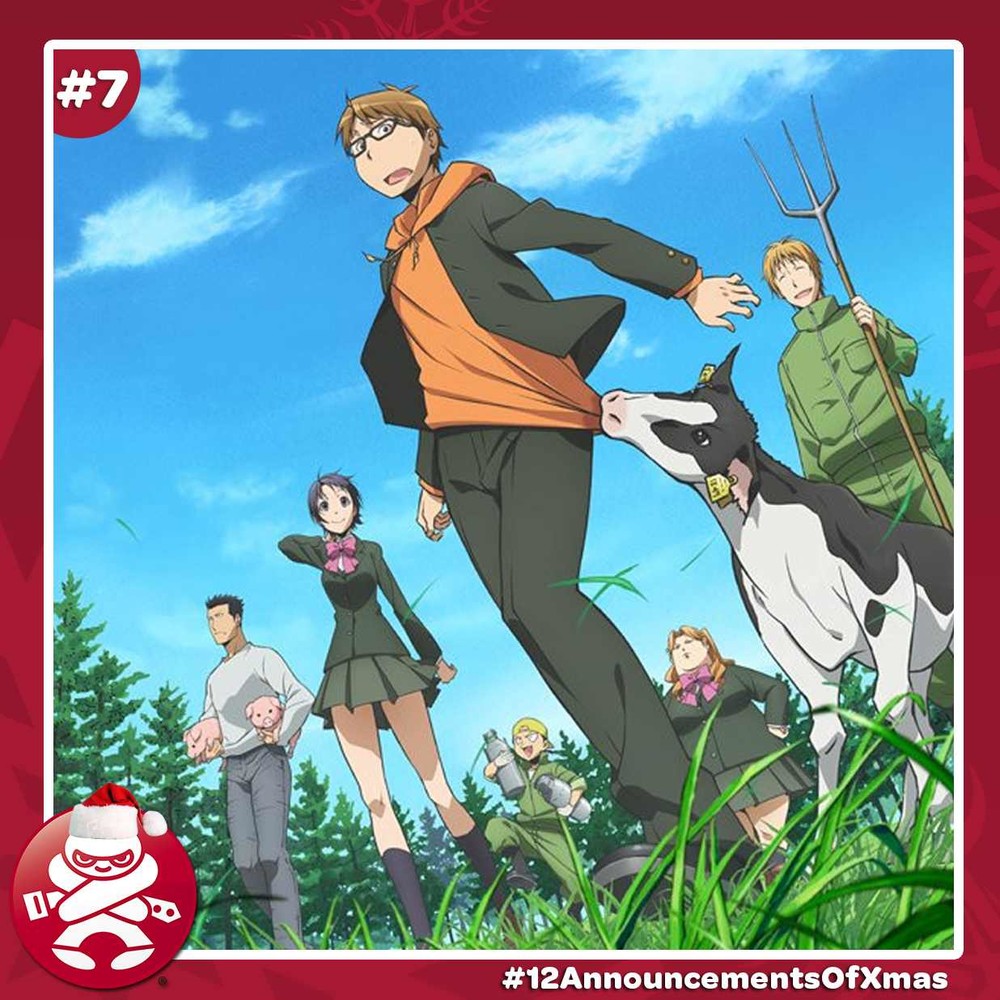 Yūgo Hachiken has just failed the entrance exams for the school he wanted to attend in Sapporo, so in order to escape his strict father Yūgo enrolls at 'Ezono' - the Ōezo Agricultural High School thinking that it would be a cake-walk. And while Ezono has an easier academic track, it's agricultural schooling will prove to be Yūgo's second greatest challenge, the first being what on earth Yūgo wants to do with his life when he graduates. Fortunately Yūgo has a new set of classmates and plenty of physical labor to keep him occupied.
Based on the original manga by Hiromu Arakawa (the creator of Fullmetal Alchemist), the SILVER SPOON manga has been awarded both the 5th Manga Taisho Award and the 58th Shogakukan Manga Award and has sold over 7.5 million copies in Japan. The series was serialised in Shogakukan's Weekly Shōnen Sunday from May 2011 and it is currently collected into 9 volumes. An English translation of the Silver Spoon manga has not yet been licensed.
Tomohiko Ito (Occult Academy, Sword Art Online) directed Silver Spoon with assistant director Otomi Deai at A-1 Pictures. Taku Kishimoto (Bunny Drop) wrote the scripts, while Jun Nakai (Mardock Scramble films, The Sacred Blacksmith) served as character designer and chief animation director. Shusei Murai (Allison & Lillia, Aiura) scored the music. miwa performs the "Kiss you" opening theme while Sukima Switch performs the "Hello Especially" ending theme song. If you would like to view the character designs and the Japanese voice cast please click here.
The 11 episode series was screened as part of the Noitamina block on Fuji-TV from July 2013 and the season was streamed on Crunchyroll and licensed by Aniplex of America for North America. A second season (Silver Spoon (TV 2) will start airing from the 9th of January 2014.
The series has inspired a live-action film adaptation that has recently released a teaser trailer with Kento Nakajima (Band member of Sexy Zone) playing Yūgo Hachiken, the film will open on the 7th of March 2014 in Japan. And Silver Spoon has even influenced Monster Hunter 4 with a gargantuan Silver Spoon weapon appearing in the game.
Madman's previous '12 Announcements of Christmas'
---
this article has been modified since it was originally posted; see change history