×
remind me tomorrow
remind me next week
never remind me
Subscribe to the ANN Newsletter • Wake up every Sunday to a curated list of ANN's most interesting posts of the week.
read more
News

Funimation to Stream Death Parade Anime

posted on by Karen Ressler
Series about a bar where people play high-stakes games after death to premiere January 9
---

FUNimation Entertainment announced on Tuesday that it will stream Death Parade, the television series based on the Anime Mirai short Death Billiards. The first episode will stream on January 9 at 12:28 p.m. EST and subsequent episodes will stream on Fridays at 11:30 a.m. EST.
Funimation describes the story:
There is a place after death that's neither heaven nor hell. A bar that serves you one chance to win. You cannot leave until the game is over, and when it is, your life may be too. From Studio Madhouse (Death Note, Black Lagoon) comes a thrilling new series where the stakes are high and the rules are simple: your life is on the line.
Yuzuru Tachikawa will return to direct the series at Madhouse, and as with the short, he will also provided the scripts, original concept, and storyboards. Shinichi Kurita will also return as character designer and animation director.
The regular cast includes: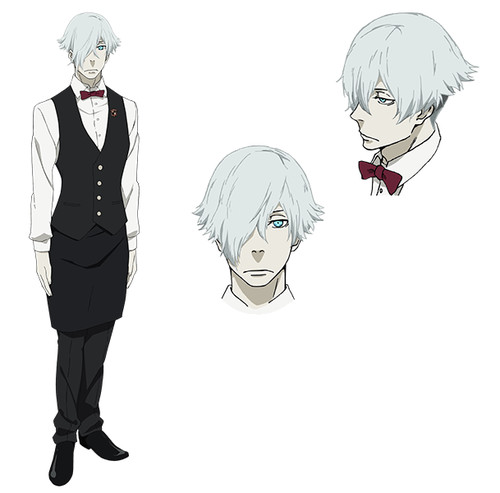 Tomoaki Maeno
(
Akatsuki no Yona
,
Pretty Rhythm Rainbow Live
) as Dekim (just "the Bartender" in the original short), the bartender and arbiter at the bar Queen Dekim (floor 15). He shows no emotion and always talks quietly. He takes pride in his job and never forgets to show visitors respect.


Asami Seto (Tari Tari, Valvrave the Liberator) as Black-Haired Woman, a clerk who works at Queen Dekim. Along with Dekim, she keeps an eye on the guests. She's strong of spirit and says what she thinks.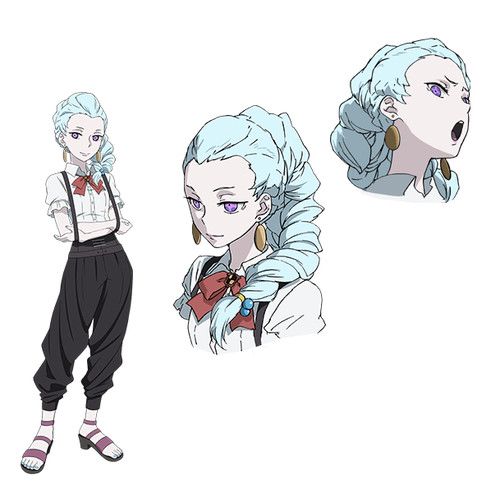 Rumi Ookubo (
Yuyushiki
,
Barakamon
) as Nona, Dekim and Ginty's boss. From her own place on the 90th floor, she manages all the other floors. In spite of her young appearance, she's wise and experienced.


Yoshimasa Hosoya (Haikyu!!, Kids on the Slope) as Ginty, an arbiter, like Dekim, from floor 15. He has a very violent nature and only thinks of himself.


Kouki Uchiyama (Soul Eater, Ping Pong) as Clavice, the elevator attendant. A mysterious boy who is always cheerful and smiling, he is usually seen with Nona. He often makes fun of Ginty and makes him angry.


Ryoko Shiraishi (Zettai Karen Children, Sket Dance) as Queen. She used to be in the same profession as Dekim, but now she works in the information department, editing the dead's memories. She's very talkative, loves alcohol, and is good friends with Nona.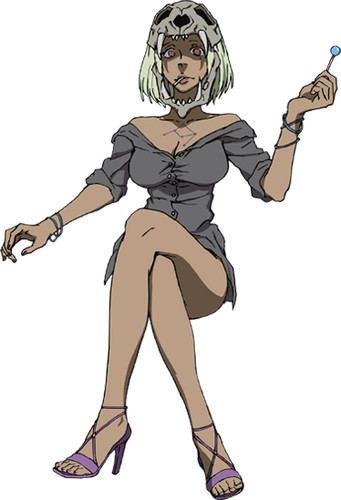 Ryoka Yuzuki (The Last -Naruto the Movie-, Kill la Kill) as Castra, the organizer of of the dead. She separates various types of deceased, and decides which bar they will be sent to. She has a sweet-tooth and is always sucking on a candy.


Tesshô Genda (Akira, Gonna be the Twin-Tail!!) as Oculus, an old man who is closest to God. As the observer of all the floors, he is Nona's boss, and was the man who created the judgement system. His trademark are the flower buds on his head and chin.
Under the Anime Mirai program with which the original short was created, the Japan Animation Creators Association (JAniCA) receives money from the Japanese government's Agency for Cultural Affairs, and it distributes most of those funds to studios who will train young animators on-the-job.
---