News

Yoko Kanno Composes Aquarion Logos Opening Song by May'n

posted on by Egan Loo
"Yamaidare darlin'" CD single with Line Cross Legion theme to ship on July 22
---

Yoko Kanno is collaborating again with singer May'n (pictured right) on "Yamaidare darlin'", the opening theme song for the July television anime Aquarion Logos. Kanno is composing and arranging the song. Although the two have worked together on Macross Frontier, this new song is the first Kanno-scored song credited to May'n in her solo career. (Their Macross Frontier collaborations were officially credited to the character "Sheryl Nome starring May'n.")
The new song's CD single will go on sale on July 22, and the limited first edition will bundle a DVD with the song's music video. The single will also include "Lethe -May'n ver.-" — the theme song for the smartphone game Line Cross Legion.
The anime's official website also posted designs for three more characters:

Jouji Nakata (Sgt. Frog, Fate/stay night: Unlimited Blade Works) as Sōgon Kenzaki, the CEO of international IT company Nesta. He feels despair at the society that has become overflowing with characters in the Japanese language without meaning, and thus consigns the culture of characters to their doom.

Saima Nakano (Ishida and Asakura) as Shōko Iwagami, the manager of the Sōsei Club (Voice of Creation Club). She is a bright, talented, and responsible operator.

Ryoko Shirashi (Zettai Karen Children, Sket Dance) as Sakurako Soda, a woman part of the organization DEVA who scouts those with strong Sōsei powers into the Sōsei Club in order to stand up against abnormal occurrences.
The anime will also star the following cast and characters (from top left to bottom right in the image below):
Nobunaga Shimazaki as Akira Kaibuki
Ayane Sakura as Maia Tsukigane
Yuto Adachi as Subete Kenzaki
Haruka Chisuga as Kokone Kikogami
Yuichiro Umehara as Hayato Kujyo
Takayuki Asai as Tsutomu Domon
Ari Ozawa as Karan Uminagi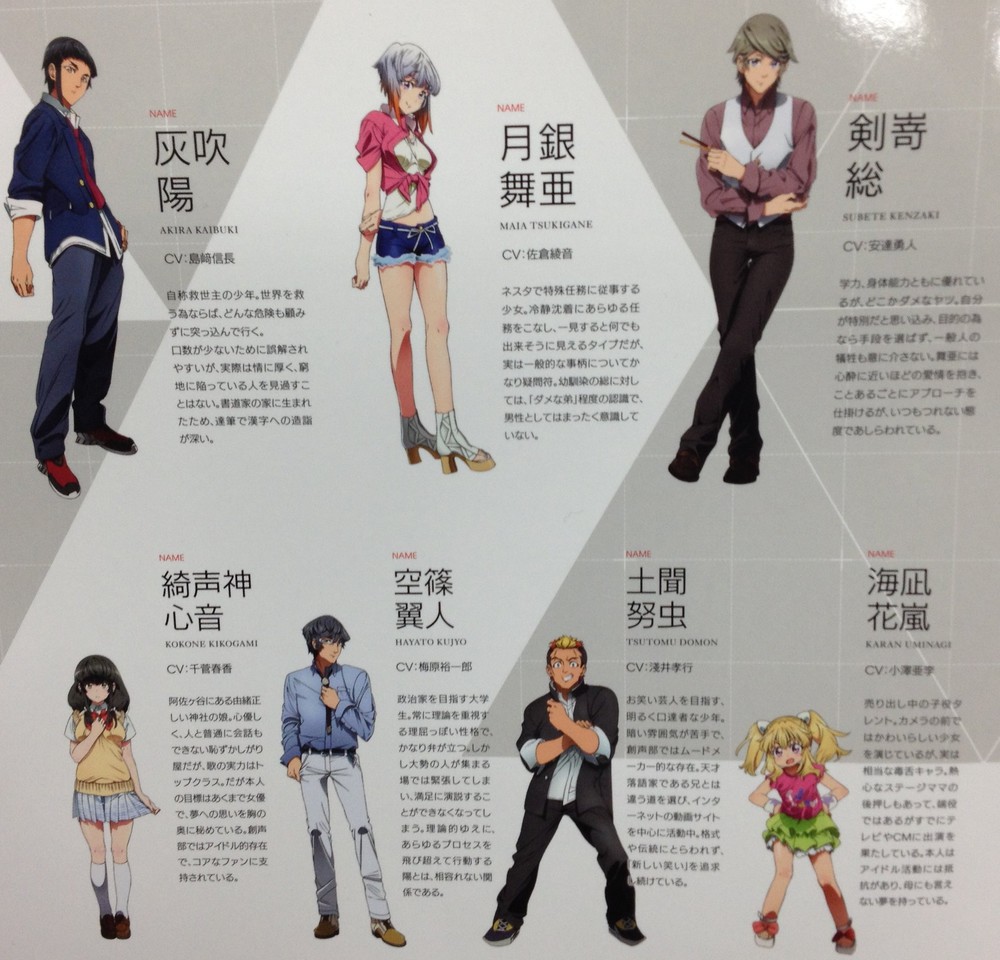 Eiichi Sato will be directing the anime at Satelight at C2C from scripts by Jun Kumagai, Yuniko Ayana, and Mariko Mochizuki. Takashi Mamezuka is designing the characters, and will also serve as chief animation diretor. R.O.N is composing the music. May'n and Haruka Chisuga will perform the opening and ending theme songs, respectively.

The anime will premiere on Japanese television in July.
Sources: Ongaku Natalie, MoCA
---