News

Aiko Performs Dame na Watashi ni Koishite Kudasai Live-Action TV Show's Theme Song

posted on by Crystalyn Hodgkins
2 TV ads streamed for series premiering on January 12
---

TBS' official website for the live-action television adaptation of Aya Nakahara's Dame na Watashi ni Koishite Kudasai (Please Love the Useless Me) romantic comedy manga announced on Thursday that aiko (pictured at right) will perform the show's theme song "Motto" (More).
The website also began streaming two 30-second TV ads last month for the series.

The show's cast includes: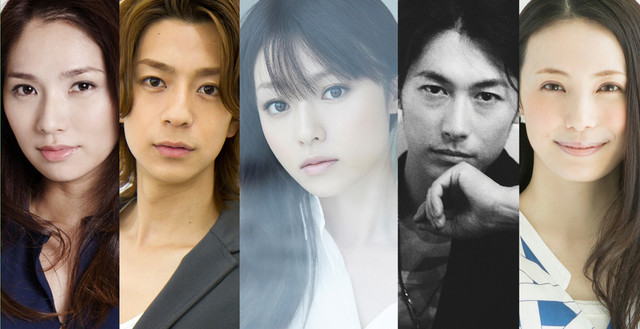 Kyoko Fukada (Kamikaze Girls, Yatterman, Ringu 2, center in photograph above) stars as Michiko Shibata, a woman around 30 years old whose career and love life has reached a low end. Dean Fujioka (Asa ga Kita, I Am Ichihashi: Journal of a Murderer, second from right) plays Ayumu Kurosawa, Michiko's cruel former boss who now runs a cafe. Shohei Miura (Gokusen, Angel Heart, second from left) plays Machiko's co-worker Daichi Mogami at her new workplace, Maho Nonami (2LDK, Su-ki-da, leftmost) plays Kurosawa's former girlfriend Akira, and Mimura (One Missed Call 2., Rakugo Musume, rightmost) plays Haruko, a flower shop lady and Kurosawa's childhood friend with a deep connection to him.
Other cast members include:
Ryō Yoshizawa as Junta
Takayuki Suzuki as Terry
Hideo Ishiguro as Tama
Kuro-chan (Akihito Kurokawa) as Pochi
Hayato Kawai (live-action drama Kurosaki-kun no Iinari ni Nante Naranai, Suzuki Sensei) is directing the drama, while Tomoko Yoshizawa (Higanbana, Dr. DMAT) is writing the script.
The series will premiere on TBS and its affiliates on January 12, and it will air every Tuesday at 10:00 p.m.

The manga revolves around an unemployed woman named Michiko Shibata who is around 30 years old. Michiko has just broken up with a younger boyfriend whom she supported financially until she drained all of her savings. Her company also recently went bankrupt and her job hunting is not going well. Michiko then has a chance meeting with Ayumu Kurosawa, a former boss she used to dislike. Ayumu offers to let Michiko work at a cafe he now runs.
Nakahara launched the manga in Shueisha's Monthly YOU magazine in April 2013. Shueisha published the manga's eighth compiled volume on December 25.
Viz Media published Nakahara's Love*Com manga's 17 volumes in North America, and Viz Pictures released the manga's live-action film adaptation on DVD. Discotek Media released the 2007 television anime series adaptation in North America in July 2013.
Source: Comic Natalie
---