News

Mari Fujimura's Kyo wa Kaisha Yasumimasu. Jōsei Manga Ends

posted on by Karen Ressler
Bonus chapter for manga that inspired live-action drama to debut in March
---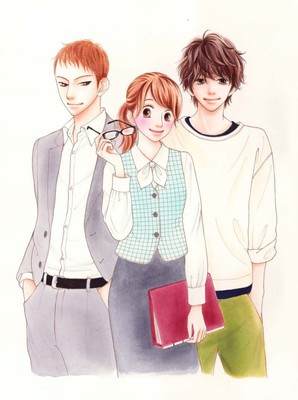 This year's March issue of Shueisha's Cocohana magazine published the final chapter of Mari Fujimura's Kyō wa Kaisha Yasumimasu. (I'm Taking off Work Today.) manga on Saturday. However, an extra chapter will run in the magazine's May issue on March 28.
The love story follows Hanae Aoishi, an office worker in her 30s who has never had a boyfriend. Hanae then starts dating a 21-year-old university student named Yūto Tanokura. However, Italian food company CEO Yu Asao is also interested in Hanae.
Fujimura launched the manga in the inaugural issue of Cocohana magazine in November 2011. The manga ranked at #2 in Da Vinci magazine's "Book of the Year" list for Female-Oriented Comics for the first half 2013. Shueisha released the 12th compiled book volume in October, and the 13th volume will ship on March 24.
The manga inspired a live-action drama adaptation starring Haruka Ayase (Oblivion Island: Haruka and the Magic Mirror, Socrates in Love, live-action Moribito), Hiroshi Tamaki (Nodame Cantabile, Ōoku: The Inner Chambers), and Sōta Fukushi (Strobe Edge, Library Wars, Kami-sama no Iu Toori) in 2014.
Source: Mantan Web
---