News

Live-Action Ghost in the Shell Film's 9-Minute Video Streamed

posted on by Jennifer Sherman
---
The official PlayStation Blog began streaming an exclusive nine-minute video of Paramount Pictures live-action Ghost in the Shell film on Wednesday. The film will open in theaters in North America and become available for pre-order on the PlayStation Store on Friday.
Director Rupert Sanders (Snow White and the Huntsman) also commented on the film on the website. He said, "I first returned to the visual language of the original manga, which really caught my imagination. That imagery has enraptured fans all over the world and it was the cornerstone for us as we developed the movie." Sanders' full statement is available on the PlayStation Blog.

Dreamworks and Paramount are co-financing and co-producing the film. Paramount Pictures is the film's new distributor, after Dreamworks ended its distribution deal with Walt Disney Pictures. Principal photography began in Wellington, New Zealand in January 2016.
The film's Japanese title is "Ghost in the Shell" in the phonetic katakana alphabet, instead of the "Kōkaku Kidōtai" title in kanji (攻殻機動隊) that is the Japanese title of the other works in the franchise in Japan. The film held its world premiere in Tokyo on March 16, and it will open in Japan on April 7. The film's Japanese dub will feature Atsuko Tanaka, Akio Ohtsuka, and Kouichi Yamadera reprising their roles as the Major, Batou, and Togusa, respectively.
Scarlett Johansson stars in the film as the Major, and Pilou Asbæk (Lucy) plays Batou. Director, comedian, and actor Beat Takeshi (also known as Takeshi Kitano) plays the Public Security Section 9 founder and chief Daisuke Aramaki. Michael Pitt (Boardwalk Empire) plays the villain, initially reported as the Laughing Man. The Collider website reported last November that Pitt's villain Kuze is an amalgamation of characters from the anime, including Kuze and the Puppet Master.
French actress Juliette Binoche (2014's Godzilla, The English Patient, Chocolat) plays Dr. Ouelet, and Kaori Momoi (Sukiyaki Western Django, Memoirs of a Geisha, Helter Skelter) and Rila Fukushima (The Wolverine) also have roles in the film. The actors for the other Section 9 task force members are as follows: Lasarus Ratuere (Terra Nova) as Ishikawa, Tawanda Manyimo (The Rover) as Borma, Yutaka Izumihara (Unbroken) as Saito, Danusia Samal (Tyrant) as Ladriya, and Chin Han (Independence Day: Resurgence) as Togusa.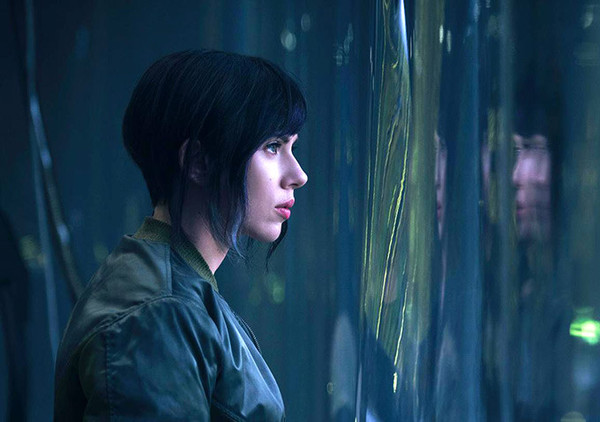 Jonathan Herman (Straight Outta Compton) reworked the earlier drafts of the script written by William Wheeler (Hoax, The Reluctant Fundamentalist) and Jamie Moss (Street Kings). Weta Workshop and its co-founder Richard Taylor are working on the film.
Additional staff members include cinematographer Jess Hall (The Spectacular Now), editor Neil Smith (Snow White and the Huntsman), production designer Jan Roelfs (Fast & Furious 6), and costume designers Kurt Swanson and Bart Mueller (The Hunger Games: Mockingjay).
---