Kalafina Has Just Released Their U.S. Debut Album This Week
May 13th 2009

Produced by Yuki Kajiura 1st Album

Seventh Heaven

2009.05.12 Digital Release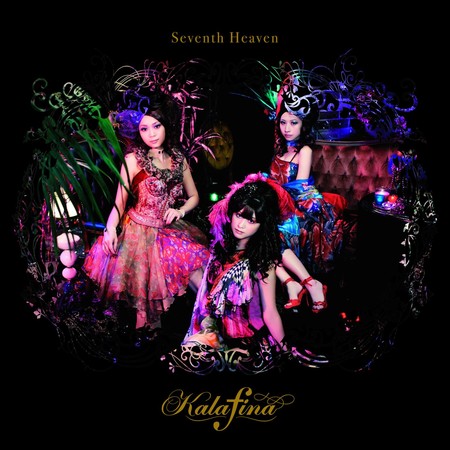 Composer Yuki Kajiura's new songstress project Kalafina, has been featured for all of the theme songs of the famous anime film series, "The Garden of Sinners". Their first three singles including their debut single "oblivious" (released in 2008), has all reached the top 10 hit chart. Now the group is finally releasing their first U.S. debut album, "Seventh Heaven" on May 12 (Tue) through major online music stores!! (iTunes, Napster, etc)
Kalafina's U.S. debut at Anime Boston as an honored guest!!
5/22 (Fri) – 5/24 (Sun)
@Hynes Convention Center, Boston MA
www.animeboston.com
www.kalafina.jp

Keiko・Wakana・Hikaru

Kalafina is a songstress project that started from female vocalist auditions held by hit maker/composer, Yuki Kajiura. During the auditions, the singers with voices that met with Kajiura's high expectations, performed each of the songs composed by Yuki Kajiura, and the best vocalists were selected forming the style of this group. Surely as each song differs, the charming music from these singers will begin to take shape.

Kalafina; Wakana, Keiko, and Hikaru, made their debut in January 2008, with their single "oblivious", which reached #8 on the Oricon (equivalent to Billboard) weekly chart.

Their second single "sprinter/ARIA", and third single "fairytale" have also made the top 10 in the Oricon chart. Kalafina is greatly featured for the theme song of the famous anime film series, "The Garden of Sinners (Kara no Kyoukai)", which their DVD has sold more than 500,000 copies total.

On March 4th, 2009, they will simultaneously release their first album "Seventh Heaven" and 4th single "Lacrimosa",
which is the ending theme of another popular anime series, "Black Butler (Kuroshitsuji).


---
Around The Web