×
remind me tomorrow
remind me next week
never remind me
Subscribe to the ANN Newsletter • Wake up every Sunday to a curated list of ANN's most interesting posts of the week.
read more
"Yatterman" Theme Performers Fudanjuku & Alter-Egos Nakano Fujoshi Sisters Now Available on JapanFiles

January 22, 2010 – JapanFiles Digital Music Store releases music by otaku idols FUDANJUKU & Nakano Fujoshi Sisters this week.
Based in the "otaku paradise" of Nakano (a nearby rival of Akihabara), the energetic "boy" band FUDANJUKU began performing for small audiences at the famous Nakano Broadway, soon gaining crowds of over 1,000 fans for their outdoor shows. Each member has their own otaku obsessions, including anime, manga, cooking, wrestling, and fashion. Produced by Jazzy Hanawa, FUDANJUKU performed the end theme for the anime "Yatterman" and reached the Oricon Top 10 with their single "Katsunda!"
Their equally-colorful female alter-egos Nakano Fujoshi Sisters released their new single this week, "Honey Bee."
VIDEOS!
FUDANJUKU - "Katsunda!" -- http://www.youtube.com/watch?v=yJNsCEgqZK4
Nakano Fujoshi Sisters - "Honey Bee" -- http://www.youtube.com/watch?v=apZZDiVJbig
LINKS!
FUDANJUKU on JapanFiles - http://www.japanfiles.com/fudanjuku
Nakano Fujoshi Sisters on JapanFiles -- http://www.japanfiles.com/fujoshi
FUDANJUKU Official website -- http://www.teichiku.co.jp/artist/fudanjuku
Nakano Fujoshi Sisters official website -- http://www.teichiku.co.jp/artist/nfs724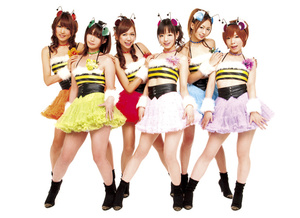 ABOUT JAPANFILES:
Supporting Japanese artists since 2004, JapanFiles specializes in digital sales and media promotion for indie and major Japanese music artists. Music downloads at the JapanFiles Digital Music Store are DRM-free and only 99 cents each.
JapanFiles has sponsored Japanese artist appearances at Sakura-Con, Anime Boston, A-Kon, FanimeCon, Anime Mid-Atlantic, Pacific Media Expo, Anime Vegas, Animex (Mexico), SXSW, Slim's (San Francisco), and Knitting Factory (New York City).
JapanFiles has produced 18 USA CD releases for Japanese artists, including Morning Musume, girugamesh, LM.C, Hangry & Angry, ketchup mania, Swinging Popsicle, LiN CLOVER, Budo Grape, BESPA KUMAMERO, and three volumes of the "Fresh Cuts from Japan" compilation series.
JapanFiles Digital Music Store: http://www.japanfiles.com
MySpace: http://www.myspace.com/japanfiles
LiveJournal: http://japanfiles.livejournal.com
Twitter: http://www.twitter.com/japanfiles
Facebook: http://www.facebook.com/pages/JapanFiles-Digital-Music-Store/269293716258
JapanFiles is a division of Japanese education website YesJapan.com.
http://www.yesjapan.com
---