Angel Flores Wins Yu-Gi-Oh! Championship Series in San Jose, CA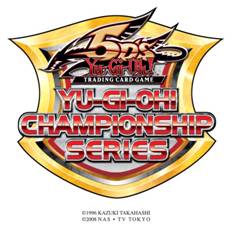 Angel Flores TAKES ON HUNDREDS TO WIN GLOBAL Yu-Gi-Oh! CHAMPIONSHIP SERIES IN SAN JOSE

Silicon Valley - Latest Stop on Yu-Gi-Oh! Championship Series'
Journey Around the World
EL SEGUNDO, CA (September 29, 2010) – Angel Flores from Tijuana, Mexico stands among Champions today after beating-out hundreds of Duelists at Konami Digital Entertainment, Inc's. (Konami) Yu-Gi-Oh! Championship Series (YCS), a weekend-long event held at the San Jose McEnery Convention Center. One in a series of premier-level Yu-Gi-Oh! TRADING CARD GAME (TCG) events throughout the year, this tournament pitted Duelists against each other in face-to-face competitions, all looking for a chance at notoriety and incredible prizes.
Angel Flores played smart and battled hard throughout the entire weekend to earn a spot in Sunday's Final Round. Going head-to-head with Stockton, CA.'s Mark Garcia, Flores, was determined to win with his powerful Gemini Deck featuring the latest cards from the new Duelist Revolution expansion. Not to be outdone, Garcia felt just as confident with his Blackwing Deck. As the clock clicked down, it was Flores that proved to be victorious with a final play of his faithful Elemental Hero Neos Alius card.
Angel earned a tremendous prize package that included a set of Ultra Rare YCS Prize Cards, an exclusive YCS Game Mat, a netbook computer, a paid trip to his country's 2011 World Championship Qualifier, and more!
For more information on Konami, the Yu-Gi-Oh! TRADING CARD GAME or the Yu-Gi-Oh! Championship Series, please visit
www.yugioh-card.com
.
About The Yu-Gi-Oh! TCG
The Yu-Gi-Oh! TRADING CARD GAME is the #1 trading card game in the world with over 22 billion cards sold. It is a game of strategy, where players create individual Decks of cards collected from Structure Decks and Booster Packs. Two players engage in a Duel while using cards that represent powerful monsters, magical Spells and surprising Traps. Duelists with well-constructed Decks, dominating monsters, solid strategy and good fortune are the victors in the Yu-Gi-Oh! TCG. Konami Digital Entertainment, Inc. is the exclusive licensee and rights holder to the Yu-Gi-Oh! TCG in North America and Latin America.
About KONAMI
KONAMI is a leading developer, publisher and manufacturer of electronic entertainment properties and traditional trading card games. KONAMI's software titles include the popular franchises Metal Gear Solid, Silent Hill, DanceDanceRevolution and Castlevania, among other top sellers. KONAMI is also the manufacturer of the wildly popular Yu-Gi-Oh! TRADING CARD GAME, which has sold more than 22 billion cards worldwide. The latest information about KONAMI can be found on the Web at
www.konami.com
. KONAMI CORPORATION is a publicly traded company based in Tokyo, Japan with subsidiary offices, Konami Digital Entertainment Co., Ltd. in Tokyo, Japan, Konami Digital Entertainment, Inc. in the United States and Konami Digital Entertainment GmbH in Frankfurt, Germany. KONAMI CORPORATION is traded in the United States on the New York Stock Exchange under the ticker symbol KNM. Details of the products published by KONAMI can be found at
www.konami.com
.
KONAMI is a registered trademark of KONAMI CORPORATION.

---