Tainted Reality Presents BORN at Nekocon 2011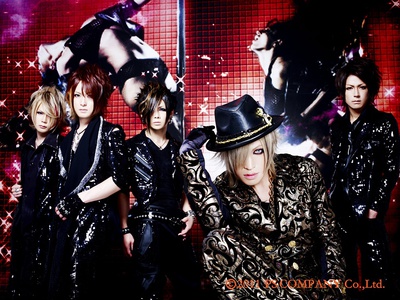 September 21, 2011 - Visual Kei thrashers BORN are set to make their first American East Coast appearance at Nekocon 2011 courtesy of Tainted Reality. The band will be appearing in support of their new single, "PSYCHO DIVA", released through PS Company Indies. Their appearance will consist of 2 full concerts, merchandise sales, autograph sessions, a Fan Q&A panel, and possible other surprises! Nekocon 2011 will take place on November 4th-6th at the Hampton Roads Convention Center in Hampton, Virginia.
About BORN:
Formed in 2005 under the name Renny Amy, then later as D&L, heavy metal / hard rock band BORN is one of the most impressive and talented acts in the independent Visual Kei circuit in Japan. The band is already established in the international market, having performed in the US on several occasions. Nekocon will be their first venture into the US in 2 years, and their first since signing to PS Company Indies in mid-2010. With bouncy beats, crunching guitar riffs, and a mixture of melodic and death vocals, they are an explosion of high energy certain to get anyone off of their feet. Complimenting their dark visual style, their lyrics contain themes of loneliness, guilt, lust, and violence. The band consists of five members: Vocalist Ryoga, guitarist K, guitarist Ray, bassist KIFUMI, and drummer TOMO. To date, the band has released 1 album, 4 EP's, 8 singles, and will be supporting their newest single "PSYCHO DIVA".
BORN Links:
Official Website: www.indie-psc.com/born
Preview of their new PV "PSYCHO DIVA": www.indie-psc.com/movie/born/110914_psycho.htm
About Nekocon:
Nekocon is a fabulous anime convention located in the eastern part of Virginia (Hampton Roads area.) Every November the Nekocon staff pull together many enriching and entertaining activities for fans by fans, and 2011 will be our 14th year... and seventh year at the Hampton Roads Convention Center.
Nekocon Links:
Official Website: www.nekocon.com
About Tainted Reality:
Tainted Reality is the premiere source of sub-culture based entertainment in the United States. They specialize in programing revolving around Japanese Rock (J-Rock), video games, fashion, and web comics. Tainted Reality hosts a variety of video programing on their site ranging from comedic skits, and nostalgic reviews, and event coverage from the biggest anime conventions, gaming conventions, and concerts. Tainted Reality often conducts interviews with some of the biggest musical artists of Japan like Yoshiki of X Japan, Die of Dir en grey, Miyavi and MUCC. They have managed and organized tours for prominent J-Rock bands such as BLOOD, Versailles -Philharmonic Quintet-, and The Candy Spooky Theater. They have also produce entertainment media such as the Darkest Labyrinth Vol.1 DVD, the Darkest Labyrinth artist compilation CD, and the first official music video for Japanese goth band Rose Noire titled "Dual Evil".
Tainted Reality Links:
Official Website:www.taintedreality.net
Official Facebook:www.facebook.com/taintedreality.net
Official Twitter: www.twitter.com/taintedreality
---