×
remind me tomorrow
remind me next week
never remind me
Subscribe to the ANN Newsletter • Wake up every Sunday to a curated list of ANN's most interesting posts of the week.
read more
Hyoe Narita, New President of VIZ Media Europe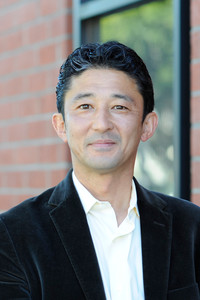 Viz Media Europe is proud to announce that Hyoe Narita, previously Executive Vice President at Viz Media, LLC in San Francisco, will become the new President of Viz Media Europe (VME) from December 1, 2011.
After five years in his function as President of VME, John Easum, will be stepping down at the end of November to pursue new initiatives. Under Easum's leadership, VME was established in January 2007. Easum was instrumental in building VME's presence and implementing VME's strategy of growing the European market for VIZ's animation and manga properties. From December, he will be moving to Tokyo where he will continue to provide services to the manga and anime industries.
Narita has been appointed as Easum's successor and will assume the role of President of VME from December 1. Narita will be responsible for managing the day-to-day operations in Europe along with Cedric Littardi, Managing Director of Kazé, and Nicolas Weber Krebs, Managing Director of VIZ Media Switzerland.
Narita has dedicated his career to growing markets for Japanese content and entertainment. After nine years in Japan, working in the publishing industry for Shogakukan, Inc., he has spent the last nine years at Viz Media, LLC in San Francisco, helping Viz Media become a market leader in manga distribution and ensuring that the latest in Japanese manga is made available to U.S. readers.
With this experience and his passion for Japanese pop culture, Narita intends to bring strong support to VME in the coming years.
About Hyoe Narita
As Executive Vice President of Viz Media, LLC in San Francisco, Narita was responsible for all of Viz Media's publications in the United States, including the negotiating process for rights to publish Japanese products in North America. He has overseen the publication of Pokémon books and was responsible for publishing more than 100 books in a two-year period. He was instrumental in developing a series of Shonen Jump manga for U.S. distribution.
In Japan, he worked at Shogakukan on publications such as: CanCam, the country's #1 fashion magazine, a monthly magazine targeting 18-25 year old women; Petit Seven, a bi-weekly top fashion magazine for teenage girls, where he directed the Celebrity pages with TV/Movie actors/actresses interviews; and Big Comic Spirits, a weekly manga magazine targeting 18-25 year-old men.
Born in Shinjuku, Tokyo, Narita graduated from Keio University.
About Viz Media Europe, S.A.R.L. (VME):
Headquartered in Paris, France, Viz Media Europe (VME) specializes in managing the development, marketing distribution throughout Europe, Middle East and Africa of Japanese animated entertainment and graphic novels (manga). Owned by three of Japan's largest creators, publishers and licensors of manga and animation, Shueisha, Inc., Shogakukan, Inc., and Shogakukan-Shueisha Productions, Co., Ltd., VME handles the comprehensive distribution, licensing and promotion of some of the most popular Japanese manga and animation properties for consumers of all ages. VME administers an integrated product line including graphic novels, consumer products, DVD and music.
Current VME animated properties include: BLUE EXORCIST, BLEACH, BLUE DRAGON, DEATH NOTE, HAMTARO, HONEY&CLOVER, KEKKAISHI, KILARI, M.A.R, NEURO, A PENGUIN'S TROUBLES, ZOIDS GENESIS, and JEWELPET.
Contact Viz Media Europe at 45 Rue de Tocqueville Paris, France. Website: www.vizeurope.com.
---