Anime USA Welcomes Keith Silverstein
Voice actor to appear at Anime USA 2012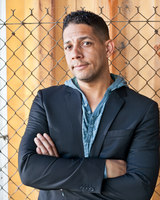 Keith Silverstein is a voice actor known primarily for his work in animation and video games. He got his start, voicing a number of original characters for Chuck Jones' Timberwolf series. Since entering the world of anime, he's voiced Captain Gantu in "Disney's Stitch", Manji in "Blade of the Immortal", and Johan in the SyFy series, "Monster".
In the video game world, Keith has worked on titles like "Elder Scrolls V: Skyrim", "Transformers: Fall of Cybertron", "Starcraft 2: Wings of Liberty", "Dynasty Warriors 7", "World of Warcraft," and "Street Fighter X Tekken" as Bryan Fury. He's also had recurring roles as Zasalamel in the "Soul Calibur" series, Hunk in the "Resident Evil "games, and Vector, The Crocodile in the "Sonic, The Hedgehog" series. Keith is probably best known for his portrayal of Kimimaro on "Naruto."
Current projects Keith is working on include "Monsuno", "Nura: Rise of the Yokai Clan", "Bleach", "Gundam Unicorn", "Tiger & Bunny", "Lagrange" and a number of secret high profile series/games yet to be announced. Keith has been a fan of anime since watching Battle of the Planets and Marine Boy as a child, and he's honored to be visiting Anime USA for the first time.
For more info on Keith Silverstein visit his website at www.keithsilverstein.com, or check him out on Facebook.
For biographical information and pictures, please check out our Guests page at http://animeusa.org/guests
About Anime USA: In 1999 Anime USA began as a northern Virginia convention started by fans, and in 2004 become a non-profit educational organization. Our mission is to educate the public about and promote Japanese arts and popular culture. As in the beginning, we remain a convention of fans, by fans, and for fans. Anime USA is a 501 (c) 3 nonprofit.
Anime USA 2012 will be held November 9-11 in our new location: the Marriott Wardham Park in Washington, D.C. For more information and to register for the convention, visit us at http://animeusa.org
---