Illustrator and Singer Aki Akane will be the Guest of Aoji Gallery at Japan Expo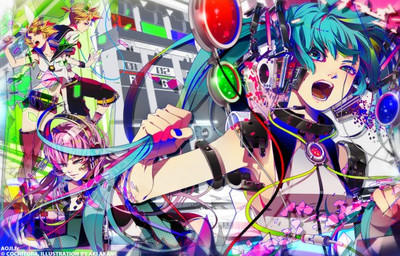 ©COCHITORA,Inc Illustration by AKIAKANE
New icon of the digital art and muse of the Vocaloid community, young illustrator and singer Aki Akane will be the guest of Aoji gallery at Japan Expo 2013.
Japan Expo visitors will have the chance to attend on
Aoji BE42
stand to the creation of a digital illustration by Aki Akane. This
live-art performance on three days
will be broadcast on screens. The Illustration thus obtained will be available in numbered and limited edition.
Aki Akane will perform at the
Japan Expo Live House for a live showcase on Friday afternoon from 02 :00 p.m. to 02 :30 p.m.
A press conference for registered press will be held from 03 :15 pm to 03 :45 pm in the conference room.
Visitors would meet Aki Akane during an autograph session on Aoji stand and in the
Japan Expo signings room
Sunday, July 7th
from 13 :30 to 14 :00
New creations
by Aki Akane will be exhibited exclusively for Japan Expo.
Fans will also be able autograph the newly Artbook 'RGB' by Aki Akane, now available for
pre-order
on
aoji.fr
and on at Japan Expo (subject to stock available).
Artist presentation:
Aki Akane is a Japanese singer and illustrator whose talent was noticed on the video sharing platform Nico Nico Douga. Aki Akane draws its own video clips to better convey on her emotions. She also says that
"she sings with her drawings, and draws what she sings."
Following the success of her productions and her artistic collaborations with Japanese users (more than 1.1 million subscribers), AkiAkane is elevated to "Contemporary Singer Artist" by the artistic committee of the site. Reflections and criticisms of contemporary Japan, her movies have been very successful. Aki Akane transmits a captivating emotion that led her video to blow up the counter of million clics.
Today, the talented Aki Akane exceeds Japan's borders to reach a growing audience including Hong Kong (last concert: January 26, 2013), and Taiwan.
---