T.M. Revolution Makes His Return to Otakon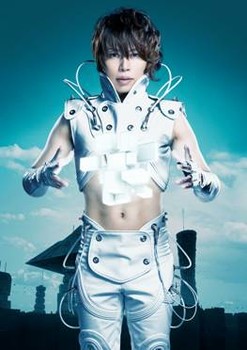 T.M. Revolution returns to the U.S. for his appearance at OTAKON, the largest anime convention on the East Coast! 10 years after his U.S. debut performance at OTAKON 2003, T.M. Revolution returns this year for OTAKON's 20th celebration.
The 3 day event will be taking place August 9-11 at Baltimore, MD.
T.M. Revolution is scheduled to perform at the First Mariner Arena on Saturday, August 10th.
For the latest updates on OTAKON and T.M.Revolution's concert, visit www.otakon.com

[Event information]
T.M. Revolution Concert @ OTAKON 2013
First Mariner Arena
Saturday, August 10
More details coming soon at www.otakon.com

[About T.M. Revolution]
In May 1996, Takanori Nishikawa debuted as T.M. Revolution with the release of his first single "Dokusai -Monopolize-". Later that year, his third single "Heart of Sword (Yoake Mae)" was used as the third ending song for the anime series Rurouni Kenshin, further expanding his fan base. He also contributed six songs to the anime Mobile Suit Gundam SEED and Gundam SEED Destiny. In 2010, his single "Save the One, Save the All" was used as the ending theme song for the movie Bleach: Hell Verse.
T.M.Revolution. launched his 10th anniversary project in 2005 in which he released the single "vestige" in August 2005, hitting #1 on Oricon chart. He also released a self-cover album "UNDER:COVER" (all songs requested by fans) in January 2006. In June of that same year, he released a CD and a DVD, both entitled "1000000000000" (pronounced billion) featuring all singles and music videos he had previously released. This became immensely popular and also hit #1 on the Oricon charts.
T.M.Revolution's recent participation includes his appearance at "Anime Festival Asia 2012" in Singapore on November 9th. Not one to rest on his laurels, he is currently expanding his field as an stage actor, voice actor, and host for many media programs.
---