Under Night In-Birth Exe:Late Now Available for Pre-order
Awesome Arcade Fighting from Japan!
Aksys Games is proud to announce that Under Night In-Birth Exe:Late, a stylish 2D fighting game set to bring explosive effects and fast-paced fighting to the PlayStation®3 computer entertainment system, is now available for pre-order! Under Night In-Birth Exe:Late was created by a combined effort of Arc System Works, whose BlazBlue and Guilty Gear series are world renowned, and French Bread, which has rightfully earned its place amongst fighting game fans! Under Night In-Birth Exe:Late brings beautifully hand-drawn sprites straight from the arcades of Japan to your home console in 2015!
The official website for Under Night In-Birth Exe:Late has just launched! Check it out for all the latest info on this superb fighting game!
Pre-order today on Amazon to secure your own copy of Under Night In-Birth Exe:Late!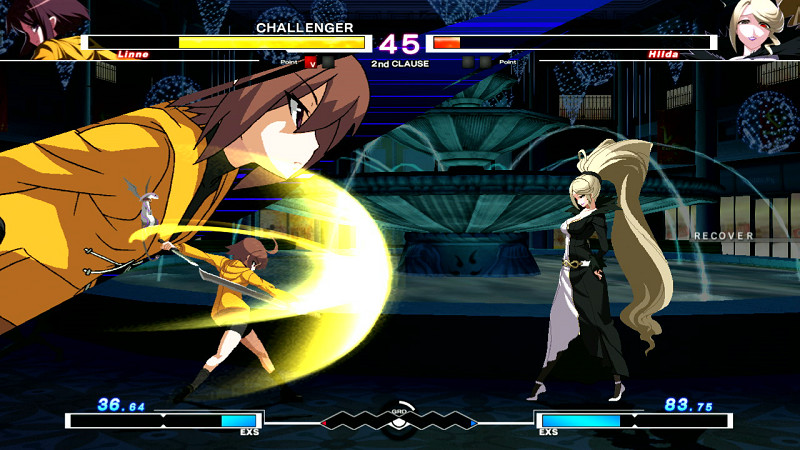 Non-Stop Action – Once the match starts, a constant, fierce battle erupts! Throughout the match, players attempt to best one another to gain temporary offensive abilities. Every moment counts, and every fight is intensely fast-paced!
Study Less, Fight More – Move inputs are streamlined so that newcomers can easily jump into the fray. This also prevents players from having to pause to look at move lists all day, but don't worry, Under Night In-Birth Exe:Late has plenty of depth to satisfy experienced fighting gamers! Study less, and fight more!
A Compelling Story for Each Character – Legend tells of a dark shadow that consumes the souls of the living, but is there any truth to it? Play as each character to discover their role in this mysterious, dark world!
BlazBlue's critically acclaimed netcode has been adapted and implemented into Under Night In-Birth Exe:Late to ensure a fantastic online experience!
Tons of modes, for every kind of player!
Sixteen fighters, each with their own fighting style!
World-shattering special moves intensify matches!
Under Night In-Birth:Exe Late has not yet been rated (RP) by the Entertainment Software Ratings Board. For more information, visit www.esrb.org.
About Aksys Games

Founded in 2006 in Torrance, California, Aksys Games Localization, Inc. is a localization studio and visionary video game publisher specializing in the Japanese-to-English translation of games and committed to publishing unique, multicultural, high-quality interactive content for all current-generation platforms with its talented staff. Its lineup of games includes the Record of Agarest War series, Zero Escape: 9 Hours, 9 Persons, 9 Doors (Winning "Best Story/Writing" Awards from IGN and Nintendo Power), Zero Escape: Virtue's Last Reward (2012 GDC Awards "Best Story" Nominee), the acclaimed BlazBlue fighting game series, and Muramasa Rebirth. More information about Aksys Games and its products can be found on the company's website, www.aksysgames.com.
---