The Gallery
Lisa Tao
by Evan Miller,

Our banner this week comes from this week's featured artist, LiSA Tao! Click on the banner for a bigger copy of the image.
Apologies for the lack of a column last week. To compensate, I've been working on a few special editions of the column, one of which will be appearing next week. I could reveal some details here, but I like surprises... so you'll just have to stay tuned and see what kind of madness we come up with.
A quick question for all the readers out there: if you visit the Artist Alley at a convention, what (if anything) do you usually end up purchasing? Prints? Posters? Buttons? Do you have any interesting acquisitions that you treasure (or regret)? Chime in with your answers on the forums! As for me, at one convention, an artist tossed in an "anime pet rock" in with a sketch I purchased once. I still question the wisdom of anyone giving away a bunch of heavy rocks to over-caffeinated congoers.
Our featured artist for this week had a tough time with sales at her first convention. However, she was able to use the experience to inspire a whole new set of changes in her work, and eventually earned accolades for doing so.
---

Family
In a world with such a wide variety of artistic mediums, it is a bit of an oddity that the manga style is often defined as more of a genre than a medium. Although the influence of manga can be seen in comics and animated series from around the world, many artists who choose to work with manga at first often find that it can end up "over-defining" their own art abilities.
For LiSA Tao, the influence of the manga world has played an interesting role in defining how she produces her own work. As she was growing up, she could tell that she had a knack for producing art. However, her style became influenced by manga less by choice, but more by proximity. When she was growing up, her family relocated from China to Hiroshima, Japan for work-related reasons. As Tao became a student in the Japanese elementary and middle schools in her neighborhood, she was soon exposed to popular shōjō manga magazines like Ribon - the same ones her classmates were reading. Consequently, while her North American counterparts were watching the Sailor Moon dub, Tao was paging through the work of artists who would not see much western exposure for their work for another decade or so.

Apple
Tao moved with her family to Canada when she was twelve, where her love for manga hit a snag. The art teachers she found herself working with were not as receptive to the manga art style that she was fond of, and many of them tried to pressure her to take up more traditional art styles. "The pressure to adapt a western style is pretty constant," admits Tao, who currently attends Sheridan College (the alma mater of last week's featured artist, Jessie Lam) in pursuit of a degree in Animation.
While adjusting to the wishes of teachers and professors after many years in Japan were stressful for Tao, the pressure on her to shift and develop her style were not limited exclusively to the academic world. Two years ago, she made her Artist Alley debut at Canada's largest anime convention, Anime North. Inspired to share her own creations with North American anime fans, the art for sale at her table consisted mostly of her original work. According to Tao, the response was underwhelming: "It seemed that people just wanted to buy fanart." At a crossroads between the will of her professors, the pressure to sell lots of prints in Artist Alley and follow her own visions for her own style, Tao decided against caving to any of the pressure. "I wanted to challenge myself to make better original art - something that could compete with the fan art."

Spider Web
The results of Tao's work are, as seen here, impressive. Soft colors set characters into the backgrounds where they are pictured in some works, while others are punctuated with jarring elements, like the spider seen here. Tao admits that the styles she prefers to utilize change frequently, citing "my sketchbook" as the best representation of all the elements she prefers to incorporate in her work. She also points to the influence of other works of art that she has studied at Sheridan as integral influences that have helped her develop "realistic" qualities and structure in her work.
While many of the works seen here may not offer much to the congoer looking for a sketch of Naruto and Sasuke, Tao's work has earned her a good number of fans and supporters. Aside from support from friends and fans, Tao has also found support through internship work, where she had the opportunity to meet other independent artists, swap stories, and network. Tao's work at Sheridan has presented her with another set of opportunities. An animated film she helped make last year will soon be seen on Nicktoons, and in the coming year, she plans on producing her own animated short. Despite the demands of her academic schedule, she also hopes to produce an art book of her own works in the near future. She is quick to admit that she still has a lot to learn; at the moment, she is experimenting with oil and acrylics in addition to the watercolors she is used to using.
Of course, Tao has not forgotten the mediums that helped convince her to take up art as a profession. A devoted manga reader, she is currently making her way through the series Monster and 21st Century Boys. Of course, the old Ribon comics that appealed to her when she was younger still appeal to her today: "I'll catch myself digging through old stuff and trying to read it all!" she admits. Although she has never produced a full-length manga, Tao still develops back stories for the figures in her work much like one would for a manga: the atmosphere of the background, the situations faced by the characters, and their personalities are all taken into account.
As the works pictured here show, I think it is safe to assume that both the academic world and the manga fans of the world will continue to be drawn to LiSA Tao's work for years to come. As for the issue of having to work with multiple styles at the request of teachers and professors, Tao offers this advice to other artists in her shoes: "Try to draw things that you don't like to draw. Think of it as practice rather than finishing a final piece. It's always good to look at older, classical artists because those styles will continue to influence modern works - even if it isn't apparent. Artists should always strive to get better. If you stop, then that means you stop being an artist."
---
IN DEPTH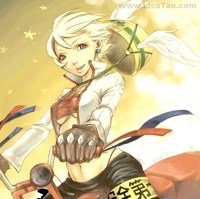 Untitled
ANN: What inspired your fantasy-themed take on the "kotsuu anzen" traffic safety campaign in Japan?
LiSA Tao: Haha, I actually put in the "koutsuu anzen" mark last. I just thought it would be a nice contrast from the crazy biker girl who looks like she cares less about traffic safety. Dangerous girls are hot. :)

ANN: Many of your works have a soft, almost airbrushed feel to them. What do you like most about this kind of style, and what inspired you to use it?
LT: My inspirations are the various emotions and feelings that people have. I try to produce art as honestly as I can. I would like the audience to see my art and relate themselves to the emotion and feelings rather than the events and the subject matter in the pieces themselves.

Snow Day
ANN: How did you come up with the backgrounds and graphic elements of the "Snow Day" piece?
LT: I did that when winter was ending. So I think I named it "Yay snow days are finally over" on my Deviant Art gallery (laughs). I just realized that winter was over and I didn't paint any pieces of winter or winter-themed paintings. I hate winter.. but I live in Canada...
ANN: As a student of animation, has there been a specific animated film or anime that inspired you creatively or stylistically?
LT: My style is heavily influenced by shojo manga, short films from Gobelin and the recent animated short sequences from Studio 4c. Those have inspired me a lot recently. I also like old manga more than some of the new ones out there these days.


Butterfly Lady
ANN: ell us a bit about the personalities of the characters pictured in "Family" and "Spider Web."
LT: In "Family", I decided to do a piece that features different races. We all should love one another because we're all families, right? :) For "Spider Web", the character is meant to be a little grungy and sexy.

ANN: Do you intend to pursue animation professionally, and if so, what kind of place do you picture yourself in the future?
LT: It doesn't have to be in the animation industry, but it sure would be nice. I'll HAVE to do art for sure. Right now I'm trying to paint on canvas instead of using computers. It's a little harder since I started painting in computer first when I was little. People usually start the other way around. In the end, doing illustrations or fine arts would be the perfect way to spend the rest of my life.
---
Want to see more of LiSA's work? At the moment, a good portion of her work is available via her deviantArt page, but she also has her own page, which will be updated in the near future. She also maintains a blog/art blog over here.
---
Are you an aspiring manga artist looking for some extra page views? Do you have a friend or loved one who draws extremely good original manga but needs a boost? Don't just sit there! Submit two links to your work, including one original piece (no file attachments please! File attachments will become dangerous "mavericks" that vow to either destroy the world or run for office), to evan [at] animenewsnetwork dot com, and you could be featured in a future Gallery column!
All works © LiSA Tao.
---
discuss this in the forum (7 posts)
|