Anime Spotlight - Freezing Vibration
by Justin Sevakis,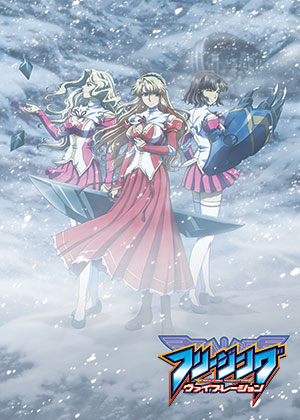 October, 2013 (JST, Japanese Premiere)


Key Staff
Director: Takashi Watanabe

    (Freezing,

Demon King Daimao, Slayers)

Series Composition: Masanao Akahoshi

    (Freezing,

Viper's Creed, A Certain Magical Index)

Chief Character Designer/Animation Director: Mayumi Watanabe

    (Koihime,

Happy Lesson Advanced, Refrain Blue)

Animation Production

ACGT







Story
When a mysterious extradimensional enemy, Nova, attacked, the young boy Kazuya Aoi lost his beloved older sister in the battle. Now he's transferred to West Genetics, a training facility for Pandora, warriors with the power to fight Nova, and their partners, Limiters.
There Kazuya meets Satellizer el Bridget, a woman feared as the "Untouchable Queen". Kazuya is drawn to Satellizer's resemblance to his older sister, and although she rejects him, he throws himself into battle with her, slowly closing the distance between them.
Meanwhile, Chevalier, one of Genetics' top organizations orders Kazuya and the others to Alaska. There, E-Pandora Project, a project to artificially create Pandora to combat the new Nova was already underway.
Characters
Sattelizer el Bridget
VA: Mamiko Noto

Untouchable Queen: The strong Pandora of the sophomore class, feared as the Untouchable Queen. She's the daughter of the El Corporation, the joint-military enterprise behind Genetics. Although she accepted Kazuya as her Limiter, they still haven't undergone their Baptism.

Age: 17
Blood Type: A
Height: 168cm
Three Sizes: B90, W56, H85
Birthplace: England
Special Ability: Blood Strike
Volt Weapon: Nova Blood

Kazuya Aoi
VA: Mitsuhiro Ichiki

Natural Born Stigmata: A young boy who volunteered to be Sattelizer's Limiter. He can activate Freezing without using the Ereinbar Set. He once lost his beloved sister to the Nova. He possesses what's known as a Stigmata Body.

Age: 15
Blood Type: O
Height: 169cm
Birthplace: Japan


Rana Linchen
VA: Kana Hanazawa

Wielder of the Sacred Gate Hakkyokuken: A study-abroad student from Tibet. She's looking for her soulmate Limiter and she's taken a liking to Kazuya, hoping to make him her Limiter. She was born with stigmata in her body.

Age: 18
Blood Type: O
Height: 164cm
Three Sizes: B81 W56 H80
Birthplace: Tibet
Special Ability: Sacred Gate Hakkyokuken: Void Fang & Flaming Fang
Volt Weapon: Shinen

Cathy Lockharte
VA: Rie Kugimiya

Godspeed of the East: She's a third year-student at East Genetics, and top of her class. She's also known as "Godspeed". She's recognized as one of the top five strongest third year students throughout all Genetics academies. Her Limiter is Kyoichi Mizuse.

Age: 17
Blood Type: O
Height: 165cm
Three Sizes: B83 W55 H88
Birthplace: America
Special Skill: Quatro Accel
Volt Weapon: Falchion

Chiffon Fairchild
VA: Marina Inoue

Unmatched Smiling Monster: She's the student council president at West Genetics, and wields unmatched power earning her the name of "Monster". She's recognized as one of the top five strongest third year students throughout all Genetics academies. Her eyes are always smiling. Her Limiter is Yujin.

Age: 17
Blood Type: AB
Height: 166cm
Three Sizes: B82 W56 H83
Birthplace: Canada
Special Skill: Illusion Turn
Volt Weapon: Anti-Nova Trial Version

Elizabeth Mably
VA: Yuko Kaida

Academy Reigning Enforcer:She's number 2 at West Genetics, and one of the central figures commanding the third year students. She has a strong sense of justice and she's brave enough to fear no risk to herself when it comes to protecting the weak. She's the daughter of the Mably Group zaibatsu. Her Limiter is Andre.

Age: 17
Blood Type: B
Height: 168cm
Three Sizes: B84 W53 H85
Birthplace: England
Special Skill: Longinus Volt
Volt Weapon: SSS (Stigmata Satellite System)

Roxanne Elipton
VA: Aimi Terakawa

Immortal Pandora: A third year student of America Genetics, and the top student in her academy. She's known as "Immortal". She's recognized as one of the top five strongest third year students throughout all Genetics academies, and she's bright and caring. Her Limiter is Hong Shi-Jing.

Age: 18
Blood Type: B
Height: 170cm
Three Sizes: B88 W54 H85
Birthplace: America
Special Skill: Classified
Volt Weapon: Anti-Nova Phantom Undead

Charles Bonaparte
VA: Rikako Yamaguchi

Tempest Phoenix:A third year student of France Genetics, and top of her class at the academy. She's recognized as one of the top five strongest third year students throughout all Genetics academies. She's a small girl who always wears headphones. Her Limiter is Citroen.

Age: 18
Blood Type: O
Height: 150cm
Three Sizes: B70 W49 H73
Birthplace: France
Special Skill: Typhon Tempest
Volt Weapon: Vibrato Hell

Julia Munberk
VA: Hisako Tojo

Walpurgis Maverick: A third-year student of Germany Genetics, and top of her class at the academy. She's recognized as one of the top five strongest third year students throughout all Genetics academies, and known as "Maverick". She's expressionless and shows little emotion.

Age: 17
Blood Type: A
Height: 168cm
Three Sizes: B81 H55 W83
Birthplace: Germany
Special Skill: Division Wave
Volt Weapon: SSS (Stigmata Satellite System)

Amelia Evans
VA: Suzuko Mimori

E-Pandora: She's the leader of the first generation E-Pandoras. She takes pride in herself and her fellow E-Pandoras, placing great faith in Ohara and the E-Pandora Project. She cherishes her fellow E-Pandoras, and wouldn't hesitate to sacrifice herself if it was for their sake.

Age: 20
Blood Type: A
Height: 166cm
Three Sizes: B85 W54 H85
Birthplace: England

Rattle
VA: Yuki Kuwabara

E-Pandora: A girl who decided to become an E-Pandora to avoid starving.

Age: 18
Blood Type: RH-B
Height: 160cm
Three Sizes: B82 W52 H79
Birthplace: India

Gina Papulton
VA: Izumi Kitta

E-Pandora: One of the E-Pandoras. Her parents sold her off, and she became a Pandora to avoid being passed around anymore.

Age: 19
Blood Type: B
Height: 164cm
Three Sizes: B82 W55 H84
Birthplace: America

Scarlet Ohara
VA: Satsuki Yukino

Founder of the E-Pandora Project: She used to be employed as a researcher under Kazuya's grandfather, Gengo Aoi, but she left him for certain reasons.

Age: 38
Blood Type: O
Height: 164cm
Three Sizes: B80 W53 H83
Birthplace: America
Cast
Sattelizer el Bridget

Mamiko Noto

Kazuya Aoi

Mitsuhiro Ichiki

Rana Linchen

Kana Hanazawa

Cathy Lockharte

Rie Kugimiya

Chiffon Fairchild

Marina Inoue

Elizabeth Mably

Yuko Kaida

Roxanne Elipton

Aimi Terakawa

Charles Bonaparte

Rikako Yamaguchi

Julia Munberk

Hisako Tojo

Amelia Evans

Suzuko Mimori

Rattle

Yuki Kuwabara

Gina Papulton

Izumi Kitta

Andre

Yukari Shimotsuki

Yujin

Shuuhei Iwase

Scarlett Ohara

Satsuki Yukino

Gengo Aoi

Atsushi Ono
Staff
Original Creators

Lim Dall-Young
Kim Kwang Hyun
(Comic Valkyrie Web Magazine,
Kill Time Communication Publishing)

Director

Takashi Watanabe

Series Composition
Script

Masanao Akahoshi

Character Design
Chief Animation Director

Mayumi Watanabe

Production

ACGT

Production

Freezing Vibration Production Committee




©TBA
---
discuss this in the forum (198 posts)
|
back to Anime Spotlight Fall 2013 - The List
Anime Spotlight homepage / archives