Anime Spotlight - The Labyrinth of Grisaia / The Eden of Grisaia
by Anthony Foronda,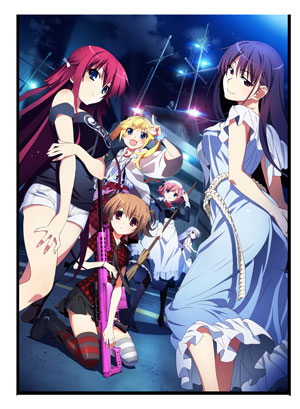 Broadcast Begins April 12, 2015 (JST)


Key Staff
Director: Tensho

(The Fruit of Grisaia, Kinmoza! Kiniro+Mosaic)

Series Composition: Hideyuki Kurata

(Kannagi: Crazy Shrine Maidens, Oreimo)

Story

Yuji Kazami saved the hearts of five girls at Mihama Academy. However, the shadow of his heart was not cleared, and it was still heavy and ominous.

Yuji looks back on his personal history. What nurtured him, and what shapes him the way it does. And, among all the rendezvous along the way, what he has gained and what he has lost --

At the end of the journey that traverses through loathsome yet irreplaceable time, Yuji confronts the true identity of the shadows that he had shelved away in the deepest recesses of his own heart.

Characters

Yuji Kazami (young)
VA:Takahiro Sakurai

Son of Ryoji Kazami, an antiques vendor. Spends his childhood negleted in the shadows of his genius older sister Kazuki. However, he ends up traversing an even stranger destiny, starting at his sister's death.

Kazuki Kazami
VA:Akane Tomonaga

Yuji Kazami's older sister. She used to have brilliant brains and plentiful talents to fit the title of "genius", but has lost her life in the "Takizono Academy micro-bus falling accident". She has showed excessive affection to her younger brother Yuji.

Heath Oslo
VA:

A mysterious man that has many "faces" including that of an art vendor. He is the one that became Yuji's guardian once he lost his entire family, so he could be considered the foster father. Behind the facade, a truly ominous intent was hidden.

Asako Kusakabe
VA:Kei Mizusawa

A sniper with amazing skill, with her codename being the legendary number "9029". Became Yuji's guardian thanks to a certain incident and acts as foster parent, but passed away several years ago. For Yuji, she is a grand figure that is his master, his mother, and something like a lover.

Yuria Harudera (JB)
VA:Erica Narumi

Yuji's current boss and his "guardian". Childhood acquaintances with Asako from back when they were orphans, and had grown up as compatriots as those that help defend their homeland. Unfit for her flashy appearance, she has very calm decision-making skills.
Cast
Yuji Kazami

Takahiro Sakurai

Yumiko Sakaki

Ryoko Tanaka

Amane Suou

Hiroko Taguchi

Michiru Matsushima

Kaori Mizuhashi

Makina Irisu

Tomoe Tamiyasu

Sachi Komine

Ai Shimizu

Yuria Harudera

Erica Narumi

Kazuki Kazami

Akane Tomonaga

Asako Kusakabe

Kei Mizusawa
Staff
Original Story

Front Wing

Director

Tensho

Series Composition

Hideyuki Kurata

Character Design / Chief Animation Director

Akio Watanabe

Chief Animation Director

Kenichiro Katsura
Mika Takazawa
Yuu Yonezawa

Color Coordinator

Tomomi Murakami

Filming Director

Yuya Kumazawa

Art Director

Kazuhiro Inoue

Art Settings

Yoshinori Shiozawa

CGI Director

Masato Takahashi

Editing

Mutsumi Takemiya

Sound Director

Jin Aketagawa

Music

Elements Garden

Animation Production

8-Bit




© Frontwing/Project GRISAIA
---
discuss this in the forum (2 posts)
|
back to Anime Spotlight Spring 2015 - The List
Anime Spotlight homepage / archives