Anime Spotlight - Descending Stories: Showa Genroku Rakugo Shinju
by ANN Staff,

On air starting January 7, 2017 in Japan
Streaming available at:
China:

North America:

French language territories:

Italy: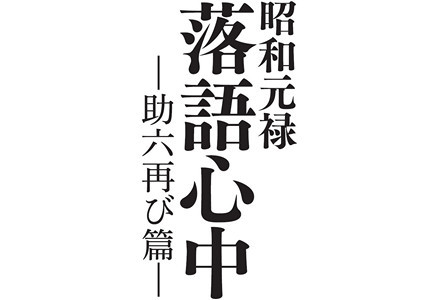 Key Staff
Series Composition/Scripts: Jun Kumagai

(Persona 3 film series, Psycho-Pass 2 scripts)

Character Design: Mieko Hosoi

(Grimgar of Fantasy and Ash, Aiura)

Color Design: Hitomi Sano

(Yosuga no Sora - In solitude where we are least alone, Spice and Wolf)
Introduction
Haruko Kumota began her Shōwa Genroku Rakugo Shinjū manga in Kodansha's ITAN magazine in 2010. The manga has won multiple awards, including Best Manga at the 17th Japan Media Arts Festival in 2013 and Best General Manga at the 38th Kodansha Manga Awards in 2015. The manga inspired an original video anime (OVA) adaptation in 2015, as well as a TV anime in January 2016. Descending Stories: Showa Genroku Rakugo Shinju serves as the second season of the anime, and takes place in the 1980's.
Story
Unable to forget the "grim reaper" he witnessed during master of rakugo Yakumo's performance when he came to visit prison, Yotaro went to the entertainment theater immediately after being released from his chains. After persuading the master to become his apprentice, Yotaro went on to refine his craft and become a star, inheriting the name of Sukeroku III.  What kind of rakugo will Yotaro discover within himself for the sake of his master Yakumo, for the sake of Konatsu, and for the sake of changing the image of Sukeroku within them both?
Characters
Sukeroku III (Yotaro)
Voice: Tomokazu Seki

A former criminal. After finding himself touched by Yakumo VIII's rakugo while being imprisoned, he requested to become his apprentice after he was set free. He's quite a simple man, and thanks to his occasional general stupidity and lack of knowledge about the world, he was given the name Yotaro by Yakumo. After much training and becoming a star, he inherited the name of Sukeroku and became the Third Sukeroku.

Yakumo Yurakutei VIII
Voice: Akira Ishida

He may be called "the last master of the Showa era" by others, but Yakumo is a rakugo performer lost in solitude who has spent over half of his life in pain. Because he didn't take any other apprentices aside from Yotaro, he has no one to succeed his Yakumo name. His name before becoming the Eighth Yakumo was Kikuhiko.

Konatsu
Voice: Yu Kobayashi

Sukeroku's daughter who despite having a bit of a temper is actually a very honest and straight-forward person. She loves her late father Sukeroku and the rakugo he used to perform from the bottom of her heart. Not wanting the blood of the Sukeroku to die, she gave birth to a child without ever making the name of the father public.

Sukeroku
Voice: Koichi Yamadera

Konatsu's father and the previous Sukeroku. Along with Yakumo, he was a leading force in the rakugo world after the war. Once called the "Unparalleled Genius," he became a legend after his death.

Higuchi
Voice: Toshihiko Seki

Nicknamed "Sensei," Higuchi is a best-selling author and a regular patron of Yotaro, who has become the Third Sukeroku.

Miyokichi
Voice: Megumi Hayashibara

Konatsu's mother and a former geisha. Although she was in love with Yakumo (Kikuhiko) in their youth, he was forced to reject her feelings when he chose the path of rakugo. Out of loneliness, she began life with Sukeroku and bore him a child. However, she died a cruel death due to a series of events.

 

Shinnosuke
Voice: Mikako Komatsu

Konatsu's son. His father's name has not been disclosed.

 

Matsuda
Voice: Shigeru Ushiyama

Yakumo's assistant and driver. With his gentle and relaxed personality, he has all but become a member of the Yurakutei household.

 

Mangetsu
Voice: Koji Yusa

A former rakugo performer who dotes on Yakumo. He now thrives working in television.
Cast
Yotaro/Sukeroku III

Tomokazu Seki

Yakumo Yurakutei

Akira Ishida

Konatsu

Yu Kobayashi

Shinnosuke

Mikako Komatsu

Matsuda

Shigeru Ushiyama

Higuchi

Toshihiko Seki

Amaken

Kappei Yamaguchi

Boss

Takaya Hashi

Yakuza Aniki

Masayuki Kato

Ani-san

Sho Sudo

Mangetsu

Koji Yusa

Sukeroku

Koichi Yamadera

Miyokichi

Megumi Hayashibara
Staff
Original Work

Shōwa Genroku Rakugo Shinjū by Haruko Kumota (published in Kodansha's ITAN)

Director

Mamoru Hatakeyama

Series Composition

Jun Kumagai

Character Design

Mieko Hosoi

Rakugo Supervision

Shinpei Hayashiya

Color Design

Hitomi Sano

Director of Photography

Asahiko Koshiyama

Music

Kana Shibue

Music Production

King Records

Sound Director

Koji Tsujitani

Sound Production

DAX Production

Opening Theme Song

"Imawa no Shinigami" (Reaper of the Final Moment)

Animation Production

Studio DEEN

Production

Rakugo Shinju Committee




©Haruko Kumota, Kodansha/Rakugo Shinju Committee
---
discuss this in the forum (2 posts)
|