Anime Expo 2018 News Roundup: Day Zero, One, Two Headlines

Anime Expo 2018: Me!Me!Me! with Hibiki Yoshizaki

by Bamboo Dong,
Hibiki Yoshizaki, creator of the cult hit "ME!ME!ME!" animated music video, celebrated the launch of Japan Anima(tor)'s Exhibition Visual Resource Collection Vol. 4: ME!ME!ME! Book! Book! Book! with fans on July 6 at Anime Expo. With him was musician Teddyloid, whose song, "ME!ME!ME! feat. daoko" is featured in the video, and character designer and animation director Shuichi Iseki from Studio Khara.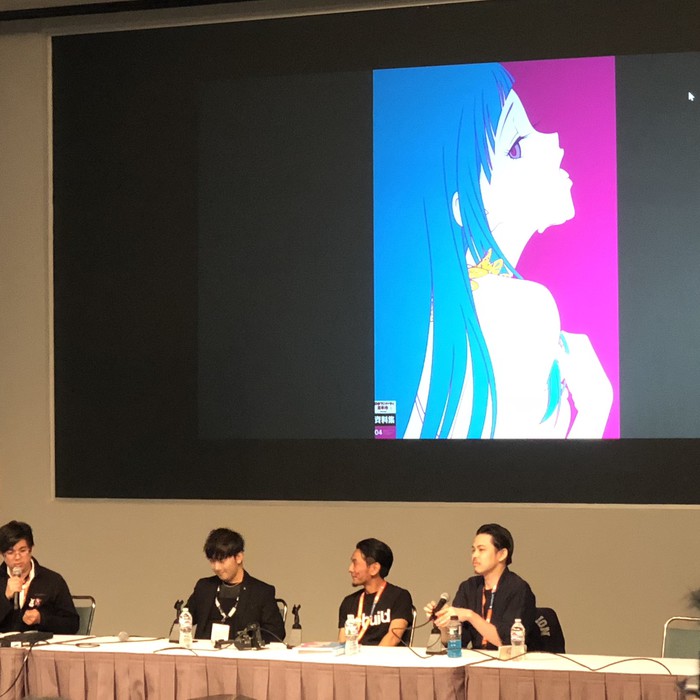 The video was originally published in 2014 as the third installment in Japan Animator Expo, a collaboration between Hideaki Anno's Studio Khara and media company Dwango. Directed and storyboarded by Yoshizaki, it packs a punch with surreal visuals that oscillate between cutesy, salacious, and grotesque. As a nod to his work designing for Evangelion: 3.0 You Can (Not) Redo and Studio Khara, there's also a couple quick nods to Evangelion. Fans can watch the video online until August 31, but be warned it's definitely not safe for work. It also wasn't safe for Anime Expo's early afternoon crowd, and needed the help of a few strategically placed AX screensavers to make the screening a little more family friendly.
Although the official website describes the story as, "You are attacked and ravished by many girls," Yoshizaki noted with a laugh that, "The meaning is whatever you want it to be."
Those hoping to see more will have a while to wait, though, and hope some lucky Stars Align. Asked if he'd ever consider turning ME!ME!ME! into a series, Yoshizaki said that Crunchyroll had approached him at some point and asked if he'd do a series based on the video, but at the time, he didn't have any ideas for it as a series and turned it down. "Talking to me right now, maybe I could think of something," he added. "But by chance if we make it, it would be a hard time for Mr. Iseki and Teddyloid because of all the work behind it."
Teddyloid was quick to chime in, "I'm ready any time!" Iseki agreed, saying, "I had one of the greatest times in my career making this, so if we could keep up the hype from that era, I think I could go for it."
Iseki was quick to add, "With Japan Animator Expo, it was quite a no limits, no rules kind of deal that we had, and it's not something you really see in the animation field in Japan. There's always a lot of limits, a lot of rules, like you can do this, you can't do that. If we didn't have something like Japan Animator's Expo, it'd be hard to make (this content) while still having fun. But actually, after ME!ME!ME!, a lot of other animations on Japan Animator Expo started getting violent and sexual content."

ME!ME!ME! wasn't Yoshizaki's only contribution to Japan Animator Expo. He also directed the 31st short, Girl. Asked what the connection between the two were, he said, "There's actually no real connection. The music wasn't done by Teddyloid."
"Yeah, someone just ripped me off," Teddyloid said, laughing.
Delving a little further, Yoshizaki mentioned that Girl was only just a minor spinoff using the same character designs. "We had the same animation staff working on it. Only minimal crossover. Nothing really deep."
According to Iseki though, "Actually, in the final scene in Girl where the girl is smiling, when I was animation that section, I was imagining that she would be Me!Me!Me!-chan later in her life." The panel ended with Iseki saying that Studio Khara was hard at work on production for the next Evangelion movie. As a treat for fans, they brought a clip-show of Evangelion footage set to the full version of "Cruel Angel's Thesis," the iconic intro from the TV anime.
Fans who didn't get a chance to purchase the artbook at Anime Expo can order the book online from Tokyo Otaku Mode.
---
discuss this in the forum (11 posts)
|
back to Anime Expo 2018 News Roundup: Day Zero, One, Two Headlines
Convention homepage / archives