Rxxx: Prescription for Pain (DVD)
---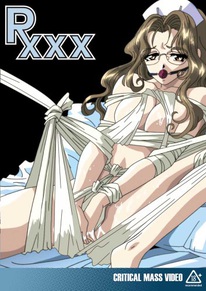 Title:
Rxxx: Prescription for Pain
Volume:
DVD
Running time:
60
Distributor:
Critical Mass Video
Release date: 2013-05-07
Suggested retail price: $14.99
Age rating: 18+

SKU: CMDVD-1337
UPC: 742617133725 742617133725

Description:
Jyunichi thought he had it made. He was all set to take over his boss' cushy job as President of Misono General Hospital... but then Serika appeared. Not only smart, but damn sexy, Serika just happens to be the President's daughter, and that means she's set to take over Jyunichi's prized position when her father retires.

Outraged, Jyunichi has come up with a devious plan to take over the hospital: subjugate one hot staff nurse after another. And there are so many ravishing nurses at Misono General: the stunning Yayoi, the magnificent Miyuki, the shapely Nanami, the alluring Aya. Jyunichi will turn every one of these luscious ladies into his willing and eager sex slaves... because controlling the hospital will be easy when the whole female staff will do anything for one more chance at his body!

Special Features: Art Gallery, Original US Trailer, Previews.

Spoken Languages: English, Japanese, English subtitles.
(added on 2013-04-26, modified on 2013-04-26)

Right Stuf CEO Shawne Kleckner joins us to talk all things Right Stuf - from bestsellers to the best releases to all things Gundam, plus your Twitter questions!
― ANNCast Episode 277: KLECK KLECK BOOM Right Stuf CEO Shawne Kleckner joins us to talk all things Right Stuf - from bestsellers to the best releases to all things Gundam, plus your Twitter questions! You can listen to the show on our player...
It's a movie that edits together footage from a TV show you've already seen - what's the purpose of "Compilation Films" like Gurren Lagann's? Justin explains.
― Ryan asks: Why are compilation films of anime series in Japan so popular and why are they rarely licensed in the US? I just don't get it. Compilation films of TV anime have been made since at least the 1970s. They once filled an important ne...
One Piece Film Gold has taken the world by storm - and it's coming to select US theaters January 10. We got to chat with the staff of the Straw Hat Pirates' latest smash hit!
― At this year's Barcelona Manga Fair, One Piece Film Gold staff members Hiroaki Miyamoto (director), Masayuki Sato (character designer and animation director), and Hiroyuki Sakurada (producer) sat down with us to talk about th...
This 3DS game is a goofy mashup of characters, places, and memorable flourishes from every corner of Dragon Ball. Todd Ciolek takes a look.
― Dragon Ball Fusions says a lot in its title. It's ostensibly about the art of fusion, which in Dragon Ball canon finds two or more character blending themselves into a more powerful being. Yet it could refer to the game just as easily, as this 3DS game is a goo...
It took 10 years, but Final Fantasy XV is finally out, and Noctis and the boys are ready for their epic road trip - Dustin is along for the ride. PLUS: Nintendo theme parks and more!
― Final Fantasy XV just came out. I'm playing it. Let's talk about it. Impressions: Final Fantasy XV I'm about a half-dozen hours into Final Fantasy XV. That's with a handful of early story segments completed and a whole...
This harem comedy from the late 2000s was a late bloomer for Western release, but is it still worth a watch after years in limbo? Theron Martin investigates.
― Some series are innovators within their genre, while others are mere followers. This 2010 adaptation of a light novel series is decidedly the latter. Even though it came relatively early in the wave of super-heavy fanservice shows of the late ...
Vote for your favorite Monster Musume character in this official Monster Musume Popularity Contest! If you have a BookWalker Global account, you'll also be eligible for some Amazing Prizes.
― Contest Giveaway Manga Sale 1. Contest Details Vote for your favorite Monster Musume character in this official Monster Musume Popularity Contest! If you have a BookWalker Global account, you'll also be eligibl...
Over 80 anime air every week. Seasons come and go where dozens of anime go unremembered. Is this healthy for the industry? Is there too much anime? Justin considers the angles.
― Anonymous asks: By my count, including short shows, kids shows and ongoing series, there are over 80 weekly anime currently airing on television, and that's not even counting movies and occasional OVAs. This is way, way mor...
Director Keiichi Hara brought Edo Japan - and the enigmatic life of the daughter of Japan's most famous artist - to lush, vibrant life in Miss Hokusai. Justin Sevakis has some questions.
― Miss Hokusai (originally titled Sarusuberi), the new feature film from Production I.G, is the story of O-Ei, the young adult daughter of famous painter Hokusai and a hugely talented artist in her own right. The fil...
Tohyo Game borrows a little too heavily from very recognizable sources for its horror plot, making this a weaker debut than it should have been.
― It isn't always easy to find the perfect metaphor for the kind of bullying that pervades the high school experience. Numerous manga authors have tried, with perhaps the most effective series being A Silent Voice due to its emotional honesty. We can't blame...
Bungo Stray Dogs begins to gradually climb, while Izetta continues to gradually fall as the chart stabilizes in its final quarter. Where do your favorites rank?
― Our team of reviewers are following 27 anime series of the Fall 2016 season and readers are rating each episode as the reviews go up. So let's have a look at what ANN readers consider the best (and worst) of the season. Keep in mind that t...
At over 150 million copies sold worldwide, the Pokemon Adventures manga has creatively expanded on the beloved games for just about 20 years; meet the artist and creator!
― Norma Editorial, the publisher of the Pokémon Adventures manga series in Spain, invited its writer/artist team to the Barcelona Manga Fair this year. Upon meeting them, it became clear that Hidenori Kusaka and Satoshi Yamamoto ar...
Despite some organizational issues, interesting characters and premise carry the first volume of this story about individuals with unusual connections to yokai.
― According to the author's notes included at the end, this manga is actually the adaptation of a 2011 novel originally titled Invented Inference: Steel Idol Nanase, which has not, to my knowledge, even been licensed yet for an English releas...
The conversations are never dull and quite often raunchy in this non-cloying take on high school girl humor.
― There's a myth that has somehow endured about how girls are less "gross," less preoccupied with bodily functions than boys. Please Tell Me! Galko-chan is here to help deconstruct that misconception. Not that this is any sort of deliberately informative work; Kenya Suzuki's short-form manga, ...