Dragon Ball Z - Cell Games - Sacrifice (DVD 55)
---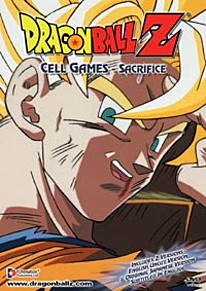 Title:
Dragon Ball Z - Cell Games - Sacrifice
Volume:
DVD 55
Running time:
62
Distributor:
FUNimation Entertainment
Release date: 2004-12-07
Suggested retail price: $19.98
Age rating: NR

SKU: FN-03040
UPC: 704400030406 704400030406

Description:
Contains 4 episodes:

Cell's Break Down
Gohan's Super Saiyan powers seem to have no limit, as the young hero delivers Cell a punch so severe it causes the monster to cough up Android 18! As the once unstoppable Cell powers down, Gohan prepares to deal him the final blow.

A Hero's Farewell
Clearly outmatched by the powered-up Gohan, Cell initiates his last line of defense -- a self-destruct program that will blow up the entire planet! With only seconds to act, Goku uses his Instant Transmission technique to transport Cell away from the Earth. The planet is saved, but at what cost?

Cell Returns!
The nightmare continues! Cell explodes, but he is not completely destroyed! A particle of Cell's nucleus survives the blast, which is all the sinister android needs to regenerate himself! Cell is restored to his Ultimate Form, and returns to the Earth more powerful than ever!

The Horror Won't End
Is Cell invincible? After easily dispensing of both Trunks and Vegeta, he certainly seems to be! At last realizing his full potential, Cell announces a new plan... First destroy the Earth. And after that, the Universe! Can this ultimate living weapon be stopped?

Spoken Languages: English, Japanese, English Subtitles.
(added on 2004-10-22, modified on 2004-10-22)