×
remind me tomorrow
remind me next week
never remind me
Subscribe to the ANN Newsletter • Wake up every Sunday to a curated list of ANN's most interesting posts of the week.
read more
Interest

Oxford Dictionary of English Adds 'Hikikomori'

posted on by Gia Manry
"Abnormal avoidance of social contact" depicted in many anime; "
otaku
" already added
---

Oxford University Press published the third edition of its Oxford Dictionary of English (not to be confused with the much-older and much-longer Oxford English Dictionary) on Thursday. According to the Japan Today website, the dictionary has added the word "hikikomori," along with about 2,000 other new words. Oxford's online entry for hikikomori is as follows:
Pronunciation: /hiˌkēkəˈmôri/
noun (plural same)
(in Japan) the abnormal avoidance of social contact, typically by adolescent males
• a person who avoids social contact

Origin:
Japanese, literally 'staying indoors, (social) withdrawal'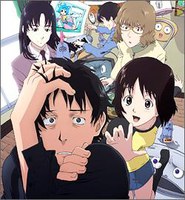 Hikikomori is a Japanese phenomenon in which a young person, usually male, withdraws entirely from society, isolating and often confining themselves to their home. The concept has been depicted in anime several times, most notably in Welcome to the NHK (pictured at left). Hikikomori characters also appear in Sayonara Zetsubou Sensei, Eden of the East, Rozen Maiden, and others. Japan itself is depicted as having been a hikikomori prior to meeting America in the manga Hetalia - Axis Powers.
The Oxford Dictionary of English is a single-volume "shorter" alternative to the 20-volume Oxford English Dictionary (OED). The Oxford Dictionary of English already added the word "otaku" to its second edition in 2005. The OED also added "otaku" in 2004.
Images © Oxford University Press
© Kadokawa Shoten / Welcome to the N-H-K Partners
---