Interest

Polar Bear's Cafe Artist Draws Rio Crossover

posted on by Bamboo Dong
Aloha Higa
draws Polar Bear and Panda samba dancing with Blue.
---
In collaboration with the limited Japanese theatrical release of the 2011 movie Rio (released in Japan under the name Blue - To the First Sky), Polar Bear's Café manga artist Aloha Higa has released a special crossover illustration.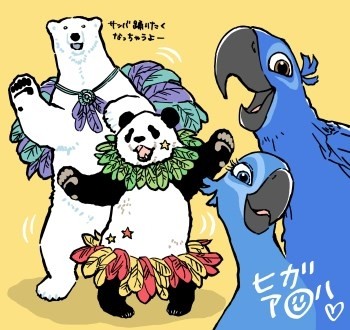 The illustration shows Polar Bear and Panda samba dancing with the film's main character Blue, a blue macaw.
Regarding the film, Higa said, "Right from the start, you get swept away with excitement by the samba rhythm reverberating through the Amazon forest, and by the richly-colored birds dancing!"
Rio has grossed over $484 million worldwide, but up until now, the film has only been available in Japan on DVD and Blu-ray. Due to popular demand, the Aeon Cinema chain of theaters will be screening the movie starting October 5. The movie will be screened in 2D with a Japanese dub. Blue is voiced by Kappei Yamaguchi, while Jewel is voiced by Ayumi Tsunematsu.
[Via AnimeAnime.]
---