Interest

Student Group's Kūchū Gunkan Atlantis Anime Planned for Theaters in October

posted on by Lynzee Loveridge
The "Gekigadan" animation group of college students based in Kyoto are hard at work creating the Kūchū Gunkan Atlantis (Aerial Battleship Atlantis) anime project. The group, hailed as the "next Gainax" launched a crowdfunding campaign to raise 1,000,000 yen (US$8,900) to get the anime shown in theaters.

There's currently 30 days left on the project and it's 71% funded (713,500 yen/US$6,400). Although the project hasn't yet achieved its goal, the staff are aiming for an October theater release.
The anime centers on a captured girl named Luna, an enemy who gets in the way, and a boy named Cyan who sets out to rescue Luna. (Note: Romanizations of characters' names are not confirmed.) The story is set on the island Atlantis, which floats in the sky, and the robot Gekiga-gō plays a pivotal role.



The Japanese pop culture website DON'CRY is partnering with Gekigadan for the crowdfund campaign. If successfully funded, the 15-minute anime will screen in theaters in Tokyo and Kyoto. Rewards for crowdfunding backers will include end credits, DVDs, design materials, and illustration collections.
Gekigadan is comprised of about 30 members, and they rent a two-room wooden apartment to work on the anime project, dubbed "Gekigashō" (lit. Extreme Drawing Manor). The anime's planned 15-minute runtime includes an opening and ending, and the anime will feature more than 200 cuts.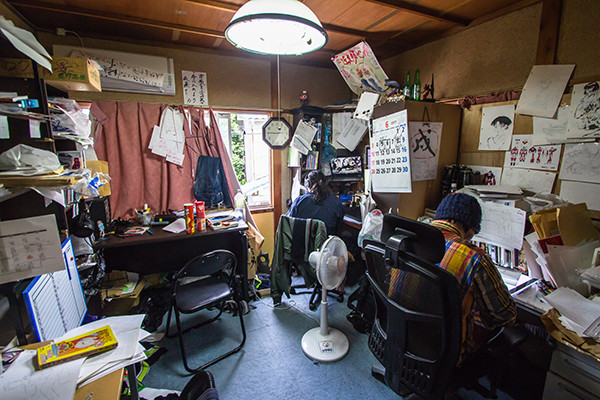 The anime is directed by Gekigadan member Fūta Nagano. Nagano explained on the project's campaign page that the film is planned to be one hour, but only the last 15 minutes will be shown in theaters for now.
Source: Gekidan Twitter and crowdfund campaign via Brian Ruh
---