News

Jump Square to Replace Monthly Shonen Jump in November

posted on by Egan Loo
---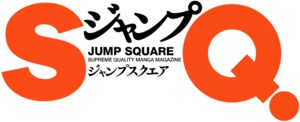 Shueisha announced Jump Square (Jump SQ.) as the new "supreme quality manga magazine" that will succeed the defunct Monthly Shonen Jump starting on November 2. The new magazine will publish on the 4th of every month (barring holidays and special occasions) for 500 yen (about US$4). Shueisha ended Monthly Shonen Jump in June.
Claymore will continue running once a month in Weekly Shonen Jump until the new magazine debuts. Shueisha has announced that the following creators will serialize in the Jump Square magazine:
Nobuhiro Watsuki (formerly of Rurouni Kenshin)
Hajime Kazu (formerly of Mind Assassin)
Fujiko Fujio (A) (Motoo Abiko, formerly of Doraemon)
Norihiro Yagi (Claymore)
Hiroyuki Asada (Letter Bee)
Kōsuke Masuda (Kōsuke Masuda Theater: Gag Manga Biyori)
Masanori Katakura (working on a new title for the magazine, while his earlier Mahou Tsukai Kurohime will publish on the magazine's website)
Akihisa Ikeda (Rosario + Vampire)
Hiroyuki Kaidō (formerly of Onmyou Taisenki)
Kentarō Katayama & Yamato Yamamoto (writer and illustrator of the Kurenai light novel)
Masanori Morita (formerly of Rokudenashi Blues) and Takeshi Obata (formerly of Death Note) will publish a one-shot, standalone manga short for the November premiere issue. Shueisha will announce more details for the entire magazine at the beginning of August.
Source: Ultimatum
---
follow-up of
More Revealed on Monthly Shonen Jump's Aftermath