News

4th Sgt. Frog Super Movie to Open in Japan in March

posted on by Egan Loo
4th feature to be double-billed with prequel short developed by manga creator
---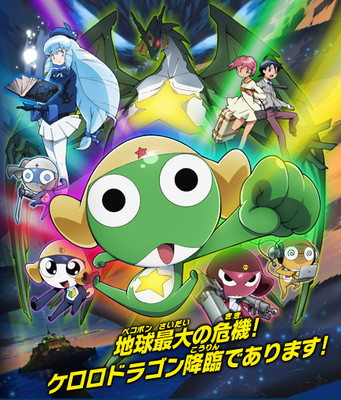 The official website of the Keroro Gunsō (Sgt. Frog) science fiction comedy anime movie franchise has revamped itself and announced that the fourth movie, Chō Gekijōban Keroro Gunsō Gekishin Dragon Warriors De Arimasu! (Sgt. Frog the Super Movie: There Are Invading Dragon Warriors!), will open in Japan in March 2009. In addition, the fourth feature will be double-billed with "Kero 0: Shuppatsu Da Yo! Zenin Shūgo" ("Keroro Gunsō Episode 0: It's Time to Mobilize! Assemble All Personnel!") prequel short that the original manga creator Mine Yoshizaki himself is developing to mark his manga's 10th anniversary.
The fourth Sgt. Frog Super Movie will begin with the sudden appearance of the mysterious giant beings "Ryū no Shippo" (Dragon Tails) around the world. Sgt. Frog, the space alien who came to invade Earth but now protects it, and his four subordinates mobilize to New York, Paris, Sydney, Tanzania, and central Tokyo. With the help of a mysterious girl named Shion who holds the Ryū no Hon (Dragon Book), Sgt. Frog's platoon transforms into mighty Dragon Warriors to fend off the new threat.
Yoshizaki is developing the story of the double-billed "Kero Zero" short, which will take place before Sgt. Frog ever arrived on Earth. On the day that Sgt. Frog and his platoon were supposed to depart for Earth, an enemy appears at their space terminal. Next year will mark not only the 10th anniversary of the manga, but also the fifth anniversary of the television anime that it inspired.
The pop music duo Kiroro (Kouchuu Ouja Mushiking ~Mori no Tami no Densetsu~) will sing the fourth feature's theme song "Minna Anata o Aishiteru" ("I Love All of You"). Ticket pre-sales begin on November 8 with Glowing Keroro and Kururu Yo-yos as bonus gifts. Bonus Keroro Dragon & Shion figures can be bought with ticket pre-sales the Wednesday after, November 12.
Source: Saishin Anime Jōhō
Image © 2009 Mine Yoshizaki/Kadokawa Shoten, Kadokawa Eiga, Sunrise, TV Tokyo, NAS
---