News

Comics Publisher Studio 407 Plans to Expand into Manga

posted on

2009-01-12

17:19 EST
---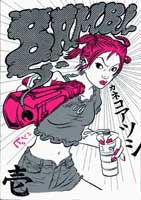 In an interview with the website Comic Book Resources, Managing Director Alex Leung of the American comics publishing company Studio 407 confirmed that it is currently in negotiations with manga creator Atsushi Kaneko and plans to release one of his works in English. Kaneko, who draws in a distinct and unique style that is different from what is usually associated with manga, is best known to Western audiences for Bambi and her Pink Gun (pictured at right). Two of the six volumes of that series are available in English from Digital Manga Publishing. Kaneko's other books include Soil — a story about a sudden and mysterious disappearance of a whole family from a small Japanese town — and several collections of manga short stories.
Studio 407, a Los Angeles-based comics publishing company which has been in business since 2006, presents its goal as "bringing together the imagination, storytelling traditions, and creative talents of artists and writers from North America and Asia to generate a flow of distinct and kinetic East-meets-West entertainment."
---
Around The Web
It seems like just yesterday we learned that Naruto had a son, who now has a movie of his own (which is in US theaters this weekend). ANN's resident Naruto expert puts Boruto's big-screen adventure to the test.
― Boruto: Naruto the Movie expands on the manga's epilogue, presenting the story of a young genin disenchanted with his hero father. Living in a peaceful world with a loving family, Boruto's c...
Brady Hartel joins Zac and ANN's interest editor Lynzee Loveridge for an in-depth discussion about the new fall anime season, and a whole boatload of other stuff! One Punch Man, The Perfect Insider, Concrete Revolutio and more!
― ANNCast Episode 240: Falling Together Get the Flash Player to see this player. Brady Hartel joins Zac and ANN's interest editor Lynzee Loveridge for an in-depth discussion ...
In the middle of the excitement of a new season, Nick Creamer looks back, digging deep into the classic series Giant Robo to discover what's hidden in the shadows of a show obsessed with light and darkness.
― "The future has shone upon us with its glorious brilliance! The time to seize our destiny and conquer all our fears is now! In ancient times, man rubbed sticks together to make fire. Then they s...
The Fall 2015 Anime Preview Guide has begun! Check back daily for new impressions of the season's biggest shows.
Available Now: The Perfect Insider - Anti-Magic Academy - Dance with Devils - Beautiful Bones: Sakurako's Investigation - Yuru Yuri 3rd Season - Mr. Osomatsu - STARMYU - One-Punch Man - Concrete Revolutio - and much more!
― Welcome to Anime News Network's Fall 2015 Preview Guide! Here's h...
This week: imports pop up with Monster Hunter spin-offs, new anime adaptations, and a modern take on an RPG classic! Plus the latest Street Fighters, Project X Zone 2 additions, and the closest we'll come to another Valkyrie Profile!
― You'll notice that the X Button has a new time slot. It's airing Thursdays, right between Battery Park and The Weber Show! We're in Must See TV territory now, folks! ...
Featuring Kill la Kill has been a privilege and a tremendous excitement for the Omakase team and it's a great way to kick off something we think will change the face of anime fandom. We hope you'll enjoy these gifts as much as we enjoyed creating them!
― The Making of the OMAKASE launch box, featuring Kill la Kill Curator's Corner When we began planning for our first full-on OMAKASE experience, we re...
The noble extermination mission in Nagoya is about to begin!
― Seraph of the End: Second Half Visit the Official Site › Story Characters Trailer Cast & Staff Gallery Broadcast Begins October 2015 (JST) Key Staff Director: Daisuke Tokudo (Episode Director Attack on Titan (Eps. 17, 25), Episode Director Guilty Crown (Eps. 5, 13, 19)) ↑ Top Story Second Half 'Battle in Nagoya' Yuichiro has reunited wit...
With the yen weak against the dollar, does the exchange rate help US anime companies when it comes to licensing fees? Justin explains.
― Branko asks: With the strength of the US dollar right now, I wondered, how much does the value of a currency affect the profitability of an anime when it gets licensed abroad? While a strong dollar hurts US exports, is it actually a benefit to American companies li...
Fans of Director Akitaro Daichi's other works, such as Elf Princess Rane, Fruits Basket and DD Fist of the North Star, will appreciate the way Bokura ga Ita navigates clichés to deliver a romance that is fresh and unexpected. Whether your awkward high school crush is long in the past or sitting across the classroom right now, this is the perfect series to get your heart beating and your pulse raci...
Mamoru Oshii's latest live-action fantasy extravaganza has its roots deep in his previous films; Brian Ruh tries to make sense of it all, but more importantly, is the film any good?
― It's become something of a rule of thumb among some anime fans to avoid Mamoru Oshii's live-action films. On the surface, this impulse is perfectly understandable. Oshii has been widely acclaimed for being one of the fo...
Akari may be the weakest in her class but she will do what ever it takes to score a one on one training session with her idol Aria!
― Aria the Scarlet Ammo Double A Visit the Official Site › Story Characters Trailer Cast & Staff Gallery Broadcast Begins October 6, 2015 (JST) Key Staff Director: Takashi Kawabata (Magic Madoka Magica The Movie: Rebellion) Series Composition: Fumihiko Shimo (Infinite S...
The first half of this popular, gorgeous Disney-esque shoujo fantasy wrapped up earlier this month. Does it capture your heart well enough to warrant a second season?
― The past year or so has been good for shojo romances with strong-willed heroines. Snow White with the Red Hair is just the latest after Yona of the Dawn and The World is Still Beautiful. What sets Shirayuki apart from her fellow heroi...
Justin examines what it takes to make an anime series a hit in the west. It isn't an exact science, however.
― Ahmed asks: As a person who is unfamiliar with the way the anime world works, I've seen enough of peoples' reactions, including several of my friends', to know that Attack on Titan is really popular to the point where I'm slightly annoyed at how much it's being hyped (I just wish that Jojo'...