News

Hello Kitty Theme Park Proposed in China for 2013

posted on by Egan Loo
East coast city plans on 21-billion-yen, 133-hectare park with 3D animation
---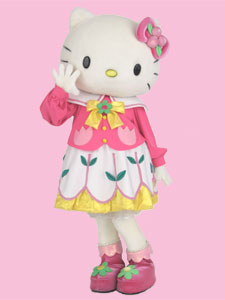 Not-So-Daily Link of the Day: The Zhejiang Daily newspapers and other Chinese media sources are reporting that a Hello Kitty theme park has been proposed for construction in Huzhou, a city on the east coast of China. The Zhejiang Investment & Trade Symposium hosted a June 9 ceremony to mark an investment agreement with Sanrio, the Japanese branding company behind Hello Kitty and other characters. The Hello Kitty park would entail an investment of US$215 million (about 21.1 billion yen).
The proposed park would take up 133 hectares (328 acres) on a site about two hours away from Shanghai by car. By contrast, the entire Disneyland Resort complex in California — including the original Disneyland, Disney's California Adventures, Downtown Disney, and the three company hotels — takes up about 200 hectares (500 acres). The Hello Kitty park's planners are aiming for a June 2013 opening date. The park will feature 3D animation and other high-tech attractions, as well as retail areas for official Hello Kitty items.
Japan already built a Sanrio Puroland theme park on the western outskirts of Tokyo. However, at 45,900 square meters (11 acres), the indoor facility is much smaller than either Disneyland or the proposed Chinese Hello Kitty park. Hello Kitty enjoys broad popularity throughout Asia; the Japanese government "appointed" Hello Kitty as its tourism ambassador to China and Hong Kong last year. Hello Kitty's Dream Light Fantasy stage musical also opened in Beijing last year. The Hello Kitty Online massively multi-player online role-playing game is available in many countries except for Japan itself. Similarly, there is a new 3D animation series called The Adventures of Hello Kitty & Friends that has been running in several countries around the world since last year, but not in Japan and North America.
Source: Sankei Shimbun
Image © Sanrio
---