News

Shonen Sunday 1983 Book Honors Manga Magazine's Heyday

posted on

2009-07-09

11:02 EDT by Egan Loo
---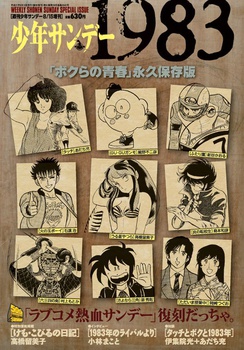 On July 15, the Japanese publisher Shogakukan will release a special supplemental book called Shonen Sunday 1983 to honor the heyday of Weekly Shonen Sunday, the manga magazine which celebrates its 50th anniversary this year. The book will reprint nine popular manga titles from 1983, along with interviews with all of their creators. Rumiko Takahashi's Urusei Yatsura leads the lineup that also features Mitsuru Adachi's Touch, Fujihiko Hosono's Gu Gu Ganmo, Kaoru Shintani's Futari Taka, Osamu Ishiwata's Hi no Tama Boy, Kazuhiko Shimamoto's Honoo no Tenkousei (Blazing Transfer Student), Motoka Murakami's Musashi no Ken, Hidenori Hara's Sayonara Sankaku, and Tsuguo Okazaki's Tadaima Jūgyō-chū! manga. In addition, the book will reprint Kemo Kobiru no Nikki (Kemo Kobiru's Diary), Takahashi's manga-style journal of her daily life as an artist.
Besides the nine main manga and the interviews with their creators, the book will print interviews with nine artists who were inspired by the Shonen Sunday manga of 1983 to create manga of their own: Gosho Aoyama (Detective Conan), Kazuhiro Fujita (Ushio & Tora), Masahito Soda (Firefighter! Daigo of Fire Company M), Masayuki Ishikawa (Moyashimon - Tales of Agriculture), Kenichi Muraeda's (Kamen Rider Spirits), Osamu Uoto's (Kasai no Hito), Shinobu Inokuma (Salad Days), Yoshitomo Yoshimoto (Akai Kuruma), and Masami Yuuki (Birdy the Mighty, Patlabor). The book even includes an interview with Makoto Kobayashi (What's Michael?, Seishun Shonen Magazine 1978-1983), a "rival" who was creating manga in Kodansha's competing Weekly Shonen Magazine at the time. The book also reproduces the cover art, idol photos, and other features from the Shonen Sunday issues of 1983.
Viz Media announced on Wednesday that it will launch a Shonen Sunday imprint for its many titles that began in Japan in Weekly Shonen Sunday. Viz's first book to carry the new Shonen Sunday logo will be the first print volume of Takahashi's latest work, Rin-ne.
Source: Comic Natalie
---
this article has been modified since it was originally posted; see change history