News

Nodame Cantabile, Yuria 100%'s Live-Action Trailers (Updated)

posted on by Egan Loo
---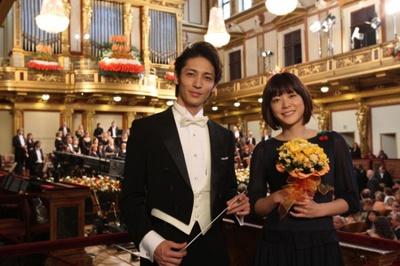 The official website for the two live-action Nodame Cantabile Saishū Gakushō (Nodame Cantabile: The Final Movement) movies based on Tomoko Ninomiya's Nodame Cantabile romantic comedy manga is streaming a 95-second trailer for the first movie. The website is also streaming the earlier 34-second teaser trailer and the earlier 70-second trailer. (In the linked page, select the rightmost "特報" button or the leftmost "予告1" button.) The original manga, the live-action version, and a separate anime version all center around two music students (Hiroshi Tamaki, Juri Ueno) who find themselves on parallel paths in Japan and later Europe.
The first film will open December 19, and the second film will open on April 17. The main manga just ended on October 10, although Kodansha's biweekly Kiss magazine will launch a side story manga in the 24th issue in December. The final television anime series will premiere in January.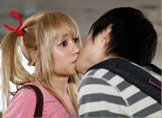 The official website for the live-action video adaptation of Shigemitsu Harada and Nobuto Hagio's Yuria Hyaku-shiki (Yuria Type 100/Yuria 100%) science-fiction romance comedy manga has posted a censored 65-second trailer. The DVD will ship in an uncensored "Hard Design" version and a censored "Soft Design" version on November 20. This year's 21st issue of Hakusensha's Young Animal magazine bundled a DVD with the uncensored trailer on Friday.
The title character of Yuria Hyaku-shiki is a sex robot whose artificial intelligence is so advanced that she escapes from her creator and decides to live with a college boy in his appartment. Hideo Jōjō、a director of other adult video works, is writing, helming, and editing the project. Shelly Fujii leads the cast as Yuria 100%, and rest of the cast include Jun Sakakibara, Mutsuo Yoshioka, Mei Itoya, and Shōhei Uno.
Sources: Nippon Cinema (Nodame Cantabile), Rakugakidou (Yuria Hyaku-shiki)
Images © 2009 Fuji TV, Kodansha, Amuse, TOHO, FNS27
© 2009 Yuria Hyaku-shiki Production Committee
Update: Shelly Fujii's spelling updated. Thanks, Emerje.
---