News

Lucky Star's Impact on Shrine's Town: 1 Billion+ Yen

posted on by Egan Loo
70 million yen spent on
Lucky Star
anime goods alone at Washimiya
---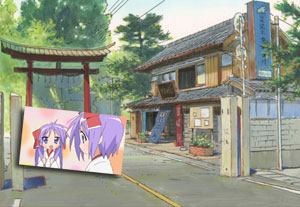 The town of Washimiya estimates that the Lucky Star anime has brought over one billion yen (about US$11 million) into the local economy after the town's main shrine was featured in the anime in 2007. While the full economic impact of Lucky Star cannot be determined for certain, sales of related goods alone have been pegged at 70 million yen (US$780,000). Visitors during the traditional three-day New Year's holidays increased from 90,000 in 2007 to 450,000 this year. At over 500 hits a day, the town's commerce and industry associations says it has the most popular website of any such association in the country.
Lucky Star fans began making "holy pilgrimages" to the town's main shrine after the anime featured Kagami and Tsukasa Hiiragi — twin sister characters who supposedly work at the shrine as miko (shrine maidens). Manga creator Kagami Yoshimizu had lived just one city to the east of Washimiya when he began drawing the original Lucky Star manga. (The town is named Washimiya, but the shrine is called Washinomiya.)
Three months after the anime aired, Yoshimizu and the anime voice cast led by Emiri Katō (Kagami) came to Washimiya in December of 2007 for an "official shrine visit." 100 people had arrived by 5:00 a.m. that morning, and 3,500 eventually came. 2,100 mobile phone straps offered by the local Ootorichaya Washinomiya restaurant sold out within half an hour. The following month, 300,000 visitors came during the first three days of 2008, and 420,000 came during the same period in 2009.
Source: Mainichi Shimbun's Mantan Web
Images © Kagami Yoshimizu/Lucky Paradise
---