News

Apple: Manga App Seller Linked to Fraudulent Purchases

posted on by Jacob Browning
Thuat Nguyen removed from App Store after 42 apps landed in top 50 books chart
---

On Sunday, the 50 top-selling book apps in Apple's U.S. iTunes Store were dominated by manga sold by one seller. Thuat Nguyen, who worked under the developer name "mycompany," was responsible for 42 books in the App Store's top 50 books by revenue in the United States. Nguyen's apps also appeared in the App Stores in Canada, France, Germany, South Korea, Taiwan, Norway, Hong Kong, and other regions. The apps contained scans — watermarked with the name of a Vietnamese website — from manga such as Dragon Ball (7 Vien Ngoc Rong), Detective Conan (Case Closed), and Hana Yori Dango (Con Nha Giau/Boys Over Flowers).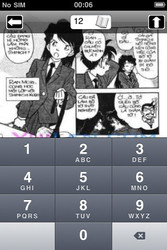 Coinciding with the rise in these apps' rankings was an increase in reports of hacked iTunes accounts. According to the reports, an unknown person or persons accessed these accounts and purchased anywhere from US$100 to US$1,400 worth of apps. Accounts have been hacked to purchased large quantities of apps with iTunes in the past.
Apple has removed the apps and Nguyen altogether from the App Store "for violating the developer Program License Agreement, including fraudulent purchase patterns." Apple told the Engadget website that customer information should be safe since "developers do not receive any iTunes confidential customer data when an app is downloaded." However, Apple also said that customers whose credit card or iTunes password was stolen and used should cancel the stolen cards, issue a chargeback for unauthorized transactions, and change the iTunes account password.
Thanks to Shiroi Hane for the news tip.
Sources: Engadget, Slashdot, The Next Web
---