News

Rock Band Coldplay Does Space Bros./Uchū Kyōdai Film Theme

posted on by Egan Loo
---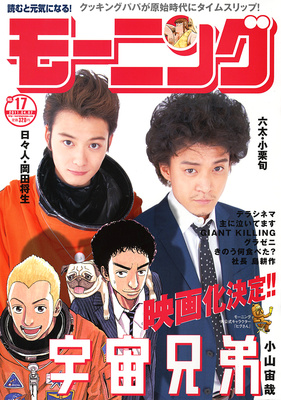 The British rock band Coldplay is contributing the song "Every Teardrop Is a Waterfall" as the theme song for the live-action film adaptation of Chūya Koyama's Uchū Kyōdai (Space Brothers) manga. Shun Oguri (Hana-Kimi, Hana Yori Dango [2005], Fullmetal Alchemist movie [2005]) and Masaki Okada (Hana-Kimi, BokuKimi, Mahō Tsukai ni Taisetsu na Koto) star as the title characters in this film which will open in Japan next May. "Every Teardrop Is A Waterfall" is a track on Coldplay's latest album, Mylo Xyloto.
The story of the film follows two brothers, Mutta (Oguri) and Hibito (Okada), who made a vow as kids to travel to space. The younger brother Hibito did become an astronaut, but not Mutta. However, Mutta's life changes one fateful day.
This is the first theme song that Coldplay has contributed to a Japanese film. Koyama noted that he sometimes listened to Coldplay while he was drawing Uchū Kyōdai, which is why he wanted to ask the British band to provide the theme song for the film. When Coldplay was at the Fuji Rock Festival in Japan in July, the band saw a promotional video for the film and said that they thought the video was wonderful and decided to contribute a song to the film.
Sources: Cinema Today, Oricon
Update: More information added.
Update 2: Additional information about Coldplay added.
---