News

New Gensō Suikoden PSP RPG Slated for February 9

posted on by Egan Loo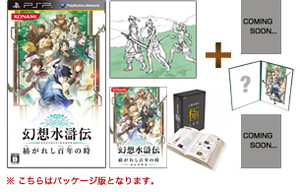 The game developer Konami announced on Thursday that it scheduled its role-playing game Gensō Suikoden: Tsumugareshi Hyaku-nen no Toki for February 9, 2012 in Japan. The game will ship for the PSP handheld console for 5,980 yen (about US$77.50). The limited first edition will come with a product code for a PSP custom theme, and Gensō Suikoden franchise veteran Junko Kawano illustrated the package. Konami's own online retail site will offer a special edition with a production materials book, soundtrack & drama CD, the "ultimate" encyclopedia, a poster and Kawano's illustration — for 19,500 yen (US$253).
The story follows a group of young heroes who stand against the "100th-Year Monster" — a creature that appears every century to devour everything in its path. One day, the protagonist is taken 100 years into the past by the mysterious boy Zefon (voiced by Yuuki Kaji). The voice cast includes Hiroshi Kamiya as the "Protagonist," Marina Inoue (Myura), Jun Fukuyama (Jiino), Katsuyuki Konishi (Dyūkasu).
Source: 4Gamer via My Game News Flash
---