×
remind me tomorrow
remind me next week
never remind me
Subscribe to the ANN Newsletter • Wake up every Sunday to a curated list of ANN's most interesting posts of the week.
read more
News

Hyper Japan Begins Friday at Earls Court London

posted on by Andrew Osmond
---
The Hyper Japan festival in London runs from Friday February 24 to Sunday February 26. The "show guide" timetable is available as a PDF here.
The festival takes place at Brompton Hall, Earls Court (directions). Tickets are available here.
The event is hosting the U.K. rounds of two international cosplay competitions: the World Cosplay Summit and the European Cosplay Gathering.
The World Cosplay Summit involves 19 countries. Two competitors from each country will be represented at the final, which is held annually in the Japanese city of Nagoya in Japan, broadcast by TV Aichi. The European Cosplay Gathering involves ten countries. One group and one individual will be chosen at Hyper Japan and sent to the final at the Japan Expo convention in Paris.
On Saturday at 4 p.m., there will be a Cosplay Contest (70 minutes). It will involve a CosParade and the preliminary rounds for both competitions for groups of cosplayers. At 6.30 p.m. there will be the World Cosplay Summit and European Cosplay Gathering Ceremony (20 minutes).
On Sunday, at 1.50 p.m. there will be a World Cosplay panel and the preliminary rounds for solo cosplayers in the European Cosplay Gathering (45 minutes). The European Cosplay Gathering Ceremony follows at 3.10 p.m. (20 minutes).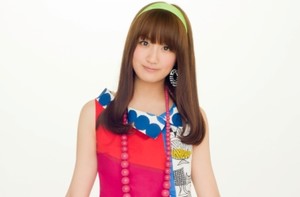 In addition, the anime singer Natsuko Aso (pictured right) will be performing on the Friday at 7 p.m. for 60 minutes, including a talk. She will also appear on Saturday at 11 a.m for 30 minutes. Aso's song credits include the opening songs for Baka and Test - Summon the Beasts and Modern Magic Made Simple, as well as the closing numbers for Tantei Opera Milky Holmes Dai-Ni-Maku. (More of her song credits are available on her encyclopedia page; her website is here.) In addition, Aso played Chisame Hasegawa in the live-action TV version of Negima! (Negima! Magister Negi Magi).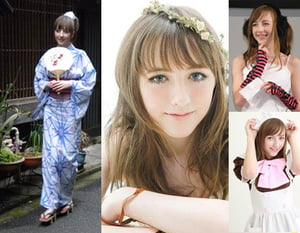 Beckii Cruel (pictured left), the Isle of Man teenager who became a moe idol in Japan, will appear on Sunday at 10.30 a.m. for 20 minutes. Beckii (real name Rebecca Flint) first became famous for her youtube dance videos, before breaking into Japanese singles, DVDs and television.
The actress Eri Fuse will appear on "Film Showcase" panels on both Saturday and Sunday at 12 noon. Both panels will last for 45 minutes. Fuse is known for such live-action films as the comedy Turtles Swim Faster than Expected, but she also played Hiromi Tanaka in Cutie Honey The Live (based on Go Nagai's manga). She will be joined by Miki Satoshi, the director of Turtles Swim Faster Than Expected.
---