News

Lollipop Chainsaw's Anime Costumes to Be Available Worldwide

posted on by Kimberly Grace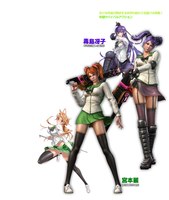 The Game Informer website reported on Tuesday that the North American release date for Suda 51's hack-and-slash game Lollipop Chainsaw will be June 12.
The game's official Twitter account also announced that the bonus crossover costumes featured in this week's issue of ASCII Media Works' Dengeki PlayStation magazine will be available in all countries. The costumes will come from four different anime: Deadman Wonderland, Manyū Hiken-chō, Highschool of the Dead, and Is This a Zombie?
Thanks to Hotaru for the news tip.
---
RightStuf - Anime, Manga and More