News

Tiger and Bunny: The Beginning Screening in Edinburgh September 22

posted on by Andrew Osmond
Screening coincides with the film's release in Japan.
---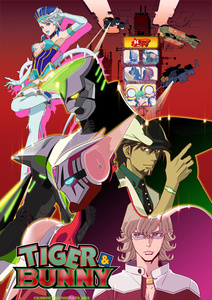 There will be a screening of the first Tiger & Bunny feature film, Gekijō-ban Tiger & Bunny -The Beginning-, on Saturday September 22 at the Edinburgh Filmhouse Cinema, which will also host some of the Scotland Loves Anime festival in October. The screening is at 6.15 p.m., a day before the film is shown at the BFI Southbank cinema in London. The running time is given as 88 minutes and the film is rated 12A.
From the webpage:
On an alternative Earth, Superheroes are celebrities and a high rating TV show rates their achievements, awarding them points until an annual King of Heroes is crowned. Old-school hero Wild Tiger is assigned a new partner with very different views on the heroes role in society but soon a vigilante criminal presents them with a serious problem. Based on the successful Japanese TV anime and presented on the same weekend as its Japanese release, we are thrilled to present the first film in the anticipated Tiger and Bunny series. This is being shown at the same time as in Japan so Filmhouse will be the first place in the UK to show the film – one of the first events of its kind in anime in the world.
.
The first Tiger & Bunny film is directed by Yoshitomo Yonetani (Betterman, GaoGaiGar: King of Braves, Dororon Enma-kun Meeramera). According to the April 2012 issue of Animage magazine, it will have story elements similar in outline to those in the television series. However, producers Kazuhiko Tamura and Chika Matsui said that the film project as a whole will also have new characters, and the second Tiger & Bunny film - which they hope will be released in 2013 - will be an entirely new story.
---