News

Mazinger's Tsuyoshi Nonaka Returns to Pacific Media Expo

posted on by Lynzee Loveridge
Mazinkaizer SKL
designer to make 2nd appearance at Los Angeles convention in November
---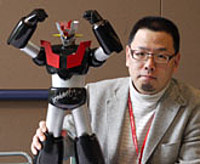 Pacific Media Expo's official Facebook page announced on Sunday that animator Tsuyoshi Nonaka will appear at this year's convention on November 9-11 at the Hilton Los Angeles Airport.
Nonaka served as mechanical designer for the mecha television anime Shin Mazinger Shōgeki! Z-Hen and D.I.C.E. and the Mazinkaizer SKL original video anime. This will mark Nonaka's second appearance at the California convention.
Nonaka has been a boy's toy designer and planner at the Japanese toy company Bandai for more than 20 years. His duties include creating robots, vehicles, and weapons for children's television programs and transforming them into toys. Nonaka has also worked as a designer for the live-action Super Sentai (Power Rangers) and Kamen Rider television series. Nanoka is the head of the American division of the Bandai affiliate company PLEX International Design, where he designs toys based on the Power Rangers, Ben 10 and Thunder Cats kids' programs.
PMX also announced on Sunday that it will host the visual kei band Moon Stream. In 2011, Satsuki of the band Renter en Soi and Tomo Asaha of the band echostream collaborated to form Moon Stream. The band performed at Anime Weekend in Atlanta in Georgia that same year.
PMX will also host illustrator/character designer/animator Mamoru Yokota (Kanon, Death Note), and voice actresses Cristina Vee, Sarah Williams, Lauren Landa, and Christine Marie Cabanos.
Thanks to Daniel Zelter for the news tip.
---