News

Aura Anime Film Slated for Next Spring

posted on

2012-10-29

21:49 EDT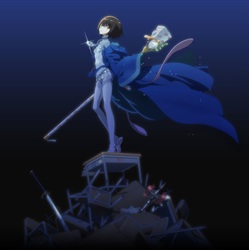 The official website for the Aura: Maryūinkōga Saigo no Tatakai anime film was updated this week to reveal the film's Spring 2013 opening date. The film is based on the 2008 light novel of the same name by Romeo Tanaka (Humanity is Declining). The school romantic comedy revolves around Ichirō "Menzu" Satō, a high school freshman who forgets his textbook at school one day. Ichirō encounters a beautiful girl while sneaking back into his school in the dead of night. The girl calls herself a witch from a parallel world. Ichirō used to suffer delusions of grandeur like this, but vowed to stop so that he can successfully re-invent himself as a freshman in high school.
The staff includes director Seiji Kishi, story composer Makoto Uezu, scriptwriter Jun Kumagai, character designer Kazuaki Morita, and musical composer Michiru Oshima on the film's staff.
The film was once listed for this year before its official unveiling.
Source: Saishin Anime Jōhō
---
It's an inevitable question: why are so many anime series set in and around high school, or star high-school age folks? Justin gets into it.
― Julian asks: After watching a lot of Anime, depending on the demographic, a good chunk of it tends to take place in a high school setting or the characters, while not always, range from the ages 14-17. This has led me to believe or assume writers of Anime or ...
Gabriella straps in to her mobile suit and conquers the second half of the original Mobile Suit Gundam series, along with all of this week's new anime releases!
― I spent most of this past weekend stuck in bed with a cold, but I did at least get a valuable life lesson out of the experience. While reading manga can be a good way to kill time, think twice before opening a volume of Monster Musume when...
The sequel series to the original Mobile Suit Gundam is a much darker look at the horrors of war, and now it's out on bluray in English! Our resident Gundam expert Lauren Orsini weighs in.
― Don't be fooled by the new name or the young new protagonist—Mobile Suit Zeta Gundam is a sequel series. Its many tie-ins to the One Year War at the center of Mobile Suit Gundam 0079 cement it as a follow-up to t...
Mike dons his pith helmet and goes on an expedition to observe one of the most unique (and suddenly popular) species of anime character: the Monster Girl. The journey will change him... forever.
― Lately I've been cruising up and down the aisles of my public library almost every day, because the library is a good place to go and do important research of a critical, academic nature. It's also a good p...
There's one volume left, but the main story ends here in a book that is sweet, thoughtful, and thoroughly satisfying.
― Stable, happy couples don't tend to make for great reading, but they do provide excellent happy endings. Robico's My Little Monster has never fully promised us either of these things as it followed the rocky, awkward romance between emotionally wounded Haru and deliberately cold Shi...
Mystery anime is back in vogue lately, but the genre is famously underrepresented in the US. Here are six mystery anime that still need an official US release!
― Recent anime seasons has shown a renewed interest in the mystery genre, from lighter fare like Haruchika to dark thrillers like this season's ERASED. This is boon for fans of an oft neglected genre, doubly so because its previous entries ra...
UQ Holder maintains its polish and consistency, but has yet to truly find its voice in this second volume.
― In many ways, UQ Holder feels like the series Ken Akamatsu has been wanting to write for most of his career. His first major hit, Love Hina, started off as a traditional harem series, with serial failure Keitaro Urashima finding himself the manager of a lady's dorm and comedy predictably ensui...
Sadly this isn't a joke. Someone out there is impersonating an ANN staff photographer to put female cosplayers in compromising positions.
― tl;dr version: Anime News Network staff will always contact you from an @animenewsnetwork.com e-mail address. Freelance journalists / photographers do not have @animenewsnetwork.com e-mail addresses and will never identify themselves as "staff." If a freelancer c...
Daryl Surat and Mike Toole return to Supernerds headquarters to chat about Turn A Gundam, Evangelion 3.33, Fullmetal Alchemist and much more! PLUS: a license announcement from Discotek!
― ANNCast Episode 251: Supernerds: Civil War Daryl Surat and Mike Toole return to Supernerds headquarters to chat about Turn A Gundam, Evangelion 3.33, Fullmetal Alchemist and much more! PLUS: a license announcement ...
Uncover the history behind the real-life seagoing bandit kings and scalawags that inspired some of the most memorable villains in Eiichiro Oda's world-conquering pirate fantasy One Piece!
― I discovered pirates through a bizarre combination of Astrid Lindgren's Pippi Longstocking novels (and the weird 1988 film) and Robert Louis Stevenson's Treasure Island when I was in elementary school, and my fasc...
This hyperactive sex comedy sendup of giant robot shows might be trying a little too hard to be ribald, but it also just might generate a few chuckles nonetheless. Theron Martin gets into it.
― The very first line of the opener should serve as a warning about what you're getting into here. It translates as "turn your roaring libido into strength," and that fully embodies the essence of the show, for ...