News

Zettai Karen Children's Hyōbu Anime Previewed in Video

posted on by Sarah Nelkin
---
The official website for the upcoming The Unlimited - Hyōbu Kyōsuke anime began streaming a full-length promotional video for this spinoff series of Takashi Shiina's Zettai Karen Children (Psychic Squad) manga. The video features Hyōbu, the esper outlaw (played by Koji Yusa) who was betrayed many years in the past by humans, and the new anime-only characters Yūgiri (Nao Tōyama) and Andy (Junichi Suwabe). The video also reveals that the opening theme is titled "Last Resolution," and will be performed by Emblem of THE UNLIMITED, while the ending theme "Outlaws" will be performed by eyelis.
The anime spinoff is being animated by Manglobe instead of Synergy SP, who animated the original Psychic Squad anime. Character designs are being done by Jun Takagi (Romeo × Juliet, Submarine 707R) instead of Psychic Squad's Takahiro Kagami. Sayaka Ohara will replace Saeko Chiba's original role as Momiji, one of the esper orphans Hyōbu adopted when she was young.
The spin-off anime will begin airing on January 7, 2013. Shishō Igarashi (Deadman Wonderland episode director, Armored Trooper Votoms Case;Irvine director), and Shinichi Inotsume (first Zettai Karen Children, Hayate the Combat Butler, Sket Dance) is in charge of the series scripts. Kenji Teraoka (Armored Trooper Votoms Case;Irvine, Blood+, Code Geass: Lelouch of the Rebellion, Ghost in the Shell: Stand Alone Complex) is the mechanical designer. Kotaro Nakagawa (first Zettai Karen Children, Code Geass: Lelouch of the Rebellion, Hayate the Combat Butler) is scoring the soundtrack, and Yukio Nagasaki (C – Control – The Money and Soul of Possibility, Halo Legends) is the sound director.
The original Zettai Karen Children anime aired in 2008 in Japan, and is licensed by Sentai Filmworks for digital and home video release.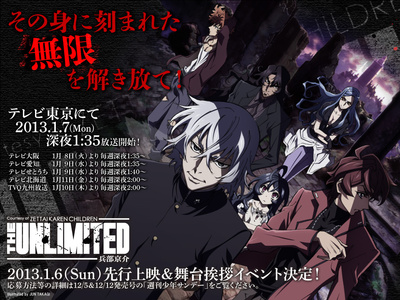 Update: The official site also posted a new piece of key visual art on Wednesday. Shogakukan's Weekly Shonen Sunday magazine published a feature on the anime on Wednesday as well, and it revealed that an advance screening of the first anime episode with the cast members Yusa, Suwabe, and Tōyama will be held on January 6.
Image © Takashi Shiina, Shogakukan/Unlimited Partners, TV Tokyo
Update 2: Date of advance screening corrected. Thanks, RyanSaotome
---