News

Minna Atsumare! Falcom Gakuen Anime's Promo Streamed

posted on by Sarah Nelkin
---
Game publisher Nihon Falcom Co. began streaming the promotional video introducing the anime adaptation of Daisuke Arakubo's Minna Atsumare! Falcom Gakuen (Everyone Gather! Falcom Academy) 4-koma manga. The video features the song, "Go fight," which is composed by the Falcom Sound Team jdk.
The cast for the anime is as follows:

Yuuki Kaji as Adol Christin


Mitsuki Saiga as Joshua Astray


Akemi Kanda as Estelle Bright


Kaori Mizuhashi as Tio


Kazuyuki Okitsu as Dark Fakt


Tetsuya Kakihara as Lloyd


Takehito Koyasu as Olivie


Takayuki Kondou as Agat


Hiromi Konno as Tita


Kumiko Nishihara as Renne


Keisuke Baba as Dogi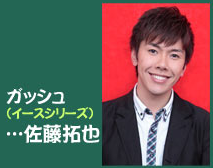 Takuya Satō as Gash


Kanako Kotera as Misshii

The story of the four panel manga begins when the world is invaded by game developer Nihon Falcom's RPG characters, including characters from Ys, Sorcerian, Eiyū Densetsu Shikkusu Sora no Kiseki (The Legend of Heroes: Trails in the Sky). The characters come together in a crazy academy life in celebration of the game maker's 30th anniversary.
The manga series runs in Nihon Falcom's Monthly Falcom magazine, and Media Pal released the second compiled volume of the manga in September. Nihon Falcom released the latest installment in their Eiyū Densetsu series, game Eiyū Densetsu: Sen no Kiseki (The Legend of Heroes: Trails of Flash) for the PlayStation 3 and PlayStation Vita, in September.
The anime will premiere on Japanese television on January 5.
---