News

Soul Sacrifice Delta Adds Wild Arms Items, New Quest, More

posted on by Sarah Nelkin
Lady Harken, Night Blazer outfits, Alice's Infinite Evil Palace survival mode planned for May 1 update
---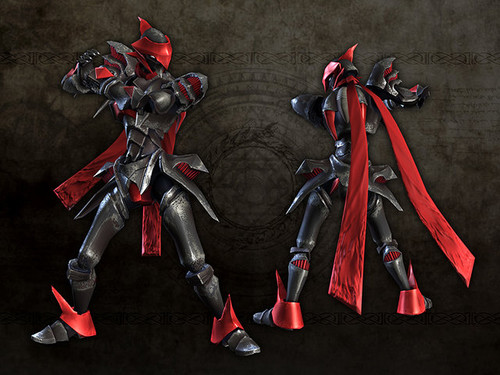 Square Enix announced on Tuesday at its "Soul Sacrifice Delta Haru Chō Mahō Battle Party" event the details of the upcoming large update for the Soul Sacrifice Delta game, including the game's upcoming collaboration with the Wild Arms series.
After collecting requests from internet users, the following accessories were decided on for the collaboration:
Rody (Rudy)'s Hair & Bandana
Hanpan (on-head accessory)
Asgard's Mask
Haiyorukonton (Hayokonton) Mask
Toka (Liz)'s Mask
Siegfried's Mask
Alhazard's Mask
Lady Harken Full-Body Costume
Night Blazer Full-Body Costume
Requests were only held for accessories, but the development team decided to make a full-body costume only for Night Blazer (seen above). Development on a Lady Harken costume is in the works.
The next update will also include other new accessories and character voices for Merlin and Morgan le Fey, ultimate survival mode titled "Alice's Infinite Evil Palace," and a new story quest titled "The Lost Singing Voice" which will tell the story of the Grim sorcerer Rumpel (seen below) as he teams up with someone called the legendary singer.


Sony is currently streaming a promotional video for the "Alice's Infinite Evil Palace" survival mode:
The update will be available in Japan on May 1. More images of the upcoming update's contents can be found at Inside Games' website.
Soul Sacrifice Delta shipped for the PlayStation Vita portable console in Japan last month, and the game is scheduled to ship in North America on May 13. The game will ship in Europe on May 14.
Source: [Inside Games] via [Hachima Kikō]
---