News

Live-Action Tokyo Tribes Film's Teaser, Full Cast Unveiled

posted on

2014-05-08

19:30 EDT by Egan Loo
---
The official website for the live-action film of Santa Inoue's Tokyo Tribe 2 (Tokyo Tribes) manga began streaming a teaser trailer on Thursday. The story follows the struggles of street gangs in a near-future version of Tokyo.


The movie will star Ryohei Suzuki (HK/Hentai Kamen) as Bukuro Wu-Ronz gang leader Mera and hip-hop artist YOUNG DAIS as Kai in the rival gang Musashino Saru. Director and writer Shion Sono (Suicide Club, Himizu, All Esper Dayo!) selected DAIS from the film's open auditions on YouTube.
The film also stars:
Nana Seino as Sunmi


Ryōta Satō as Tera
Junsuke Daitō as Iwa
Takuya Ishida as Kim
Yui Ichikawa as Nori-chan
Mika Kano as Erendira
Shoko Nakagawa as Kesha
Shōta Someta as MC Show
Denden as High Priest
Yōsuke Kubozuka as Nkoi
Riki Takeuchi as Buppa
Bernard Ackah as Jadakins
Joey as Kamekichi
Yoshihiro Takayama as Bodyguard
Arata Matsuura as Skunk
Panda United as Hashim
Makoto Sakaguchi as Yon
Kokone Sasaki as Rookie Police Officer
Hideo Nakano as Veteran Police Officer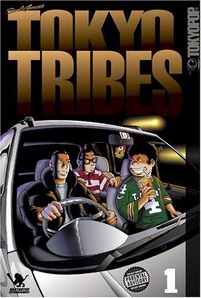 The teaser notes that the original "legendary" manga has a total of 2.5 million copies. Tokyopop published six of 12 volumes under the name Tokyo Tribes in North America. Madhouse adapted the same manga series into the 13-episode Tokyo Tribe 2 television anime series in 2006. Tokyo Shock released the live-action film adaptation of Inoue's The Neighbor No. Thirteen manga on DVD.
Inoue ended his Tokyo Tribe 3 sequel manga and Dan Da Barbarian manga in 2012. He launched a new manga last summer.
Sono filmed Tokyo Tribes from late August to late September, and the film will open in theaters in Japan on August 30.
Thanks to Daniel Zelter for the news tip
---